American Studies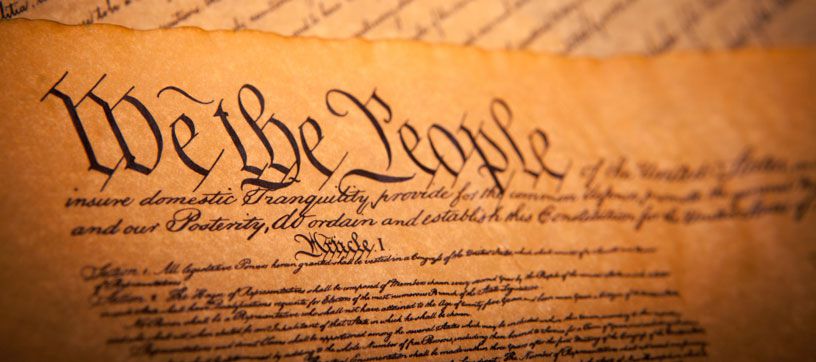 American studies examines the American experiment from an interdisciplinary perspective, based on the liberal arts and sciences. It incorporates the study of economics, history, literature, art, the media, film, urban studies and women's studies, among other fields. Students read deeply in these areas, and through research learn to think and write critically about the nature of American life.
American studies majors complete common core courses, and then choose electives within the following three tracks:
Constitutional studies
Humanities
Social sciences
You can also minor in American studies.
Core (15 credits)
AMST 100 - The American Experiment: Formation of Democratic Life
AMST 200 - The American Experiment: Evolution
AMST 300 - The American Experiment: Global Influence
AMST 490W - Capstone Seminar in American Studies
POLS 316 - Constitutional Law
Electives (21 credits)
Select one:

AMST 330 - Treason in America
AMST 335W - Moot Court
AMST 350 - Sex, Law, and Society
PHIL 425 - The Constitutional Theory

Select six:

AMST 120 - Encounters with the Constitution
AMST 330 - Treason in America
AMST 335W - Moot Court
AMST 350 - Sex, Law, and Society
AMST 390 - American Studies and Travel
BUSN 302 - Business Law for the Arts
BUSN 351 - Business Law I
BUSN 352 - Business Law II [Same as ACCT 352] [Formerly ACCT 350, equivalent]
CLST 101 - Classical Roots of American Culture
ECON 310 - Economics of the Public Sector [Formerly ECON 302, equivalent]
COMM 305 - The First Amendment, Culture and Communication
HIST 304 - U.S. Women's History
HIST 305 - History of Gender and Sexuality in the United States
HIST 341 - The Long Civil Rights Movement
HIST 349 - The Rise and Fall of American Slavery
HIST 354 - The American Revolution and Early Republic, 1775-1820
HONR 322
HONR 323
PHIL 205 - The Anatomy of Thought
PHIL 321W - Legal Reasoning
POLS 240 - The Supreme Court in American Politics
POLS 243 - Crime and Punishment in America
POLS 320 - Religion and Politics in America
POLS 327 - International Law & International
POLS 333 - Legislative Politics
POLS 344 - The Presidency
POLS 347 - Justice, Politics and Policy
POLS 359 - American Political Thought
POLS 363 - The Judicial Process
POLS 368W - Comparative Criminal Justice Systems
POLS 375 - Labor Law and Politics
RSTD 321 - The Church and the State
Core (12 credits)
AMST 100 - The American Experiment: Formation of Democratic Life
AMST 200 - The American Experiment: Evolution
AMST 300 - The American Experiment: Global Influence
AMST 490W - Capstone Seminar in American Studies
Electives (24 credits)
Select five from at least two disciplines:

AMST 195 - Special Topics
AMST 295 - Special Topics
AMST 310 - The American Economy in Literature
AMST 330 - Treason in America
AMST 335W - Moot Court
AMST 340 - America at Sea
AMST 350 - Sex, Law, and Society
AMST 395 - Special Topics
AMST 399 - Independent Study in American Studies
AMST 495 - Special Topics
AMST 499 - Independent Study in American Studies
CLST 101 - Classical Roots of American Culture
DANC 205 - Classic Jazz Technique [Formerly THEA 145, equivalent]
ENGL 315 - Adolescent Literature
ENGL 341 - The Invasion of America: Concepts of Americanness
ENGL 342 - Financial Fictions and the Rise of Realism
ENGL 343 - Postmodern America
ENGL 345 - African-American Literature and Culture
ENGL 346 - Black Presence and Presentation on the American Stage
ENGL 381 - The Roaring Twenties: Film, Literature, and Drama of the Jazz Age
ENGL 385 - American Film
ENGL 410 - Southern American Literature
ENGL 412 - Multicultural American Literature
FNAR 372 - Arts in the United States
FNAR 375 - Pre-Columbian Art
HIST 121 - Early America to the Civil War
HIST 122 - Modern America: Reconstruction to Global Power
HIST 304 - U.S. Women's History
HIST 305 - History of Gender and Sexuality in the United States
HIST 324 - America and the Second World War [Formerly HIST 340, not equivalent]
HIST 327 - History on Film
HIST 336 - American Foreign Relations
HIST 340 - America and the Second World War
HIST 341 - The Long Civil Rights Movement
HIST 348 - Historical Archaeology
HIST 349 - The Rise and Fall of American Slavery
HIST 350 - American Indians
HIST 351 - American Military History
HIST 352 - Colonial North America to 1700
HIST 354 - The American Revolution and Early Republic, 1775-1820
HIST 355 - Civil War and Reconstruction
HIST 356 - The United States in the Gilded Age and the Progressive Era, 1877-1919
HIST 357 - Twentieth Century America, 1920-1960
HIST 358 - Twentieth Century America, 1961-Present
HIST 372 - History of Virginia
HIST 453 - Empires of North America, 1700-1775
HONR 322
HONR 323
MUSC 214 - Jazz History and Literature [Formerly MUSC 408, equivalent]
PHIL 312 - American Philosophy
PHIL 425 - The Constitutional Theory
RSTD 319 - Religion and American Identity
RSTD 338 - Pilgrimage on the Appalachian Trail
THEA 346 - History of Musical Theater
THEA 361W - Broadway to Hollywood and Back

Select two:

AMST 120 - Encounters with the Constitution

AMST 195 - Special Topics
AMST 295 - Special Topics
AMST 330 - Treason in America
AMST 335W - Moot Court
AMST 340 - America at Sea
AMST 350 - Sex, Law, and Society
AMST 395 - Special Topics
AMST 399 - Independent Study in American Studies
AMST 495 - Special Topics
AMST 499 - Independent Study in American Studies
BUSN 351 - Business Law I
COMM 320 - Media and Society
COMM 326 - Media Audiences
COMM 330 - Gender Communication
COMM 335 - Rhetoric and Politics
COMM 341 - Rhetoric and Social Movements
COMM 415 - Rhetoric and Religion
COMM 425 - Public Dialogue in America
ECON 302 - Economics of the Public Sector
ECON 375W - Industrial Organization and Public Policy
ECON 475 - Money and Banking
HONR 360 - Seminars in Identity and Culture
POLS 101 - Power and Politics in America
POLS 202 - State and Local Government
POLS 240 - The Supreme Court in American Politics
POLS 243 - Crime and Punishment in America
POLS 316 - Constitutional Law
POLS 320 - Religion and Politics in America
POLS 323 - American Foreign Policy
POLS 333 - Legislative Politics
POLS 344 - The Presidency
POLS 347 - Justice, Politics and Policy
POLS 354 - Political Campaigns and Elections
POLS 359 - American Political Thought
POLS 363 - The Judicial Process
POLS 375 - Labor Law and Politics
POLS 382 - Women and Politics
POLS 395 - Special Topics
POLS 454 - American Political Behavior
SOCL 303 - The Family in Transition
SOCL 314 - Education, Culture and Society
SOCL 316 - Racial and Ethnic Relations
SOCL 320 - Sociology of Media and Popular Culture
SOWK 368W - Social Policy Analysis

Select one:

AMST 195 - Special Topics
AMST 295 - Special Topics
AMST 340 - America at Sea
AMST 390 - American Studies and Travel
AMST 395 - Special Topics
AMST 495 - Special Topics
ANTH 377 - Women, Gender, and Culture [Same as SOCL 377]
COMM 340 - Intercultural Communication
ECON 470 - International Trade and Finance
ENGL 320W - Studies in Women and Literature
ENGL 425
FNAR 377 - Contemporary Art
GEOG 308 - The Urbanizing World [Same as SOCL 308]
HIST 325 - Cold War Politics and Culture
HIST 469
HONR 490W - Problems in the Modern World
PHIL 315 - Philosophy of Gender
POLS 215 - Comparative and International Politics
POLS 311W - Comparative Politics
POLS 358 - Modern Political Thought
POLS 368W - Comparative Criminal Justice Systems
POLS 402 - International Relations Theory and World Issues
PSYC 320 - Psychology of Gender
SOCL 377 - Women, Gender, and Culture [Same as ANTH 377]
Core (12 credits)
AMST 100 - The American Experiment: Formation of Democratic Life
AMST 200 - The American Experiment: Evolution
AMST 300 - The American Experiment: Global Influence
AMST 490W - Capstone Seminar in American Studies
Electives (24 credits)
Select five from at least two disciplines:

AMST 120 - Encounters with the Constitution
AMST 195 - Special Topics
AMST 295 - Special Topics
AMST 330 - Treason in America
AMST 335W - Moot Court
AMST 340 - America at Sea
AMST 350 - Sex, Law, and Society
AMST 395 - Special Topics
AMST 399 - Independent Study in American Studies
AMST 495 - Special Topics
AMST 499 - Independent Study in American Studies
BUSN 351 - Business Law I
COMM 320 - Media and Society
COMM 326 - Media Audiences
COMM 330 - Gender Communication
COMM 335 - Rhetoric and Politics
COMM 341 - Rhetoric and Social Movements
COMM 415 - Rhetoric and Religion
COMM 425 - Public Dialogue in America
ECON 302 - Economics of the Public Sector
ECON 375W - Industrial Organization and Public Policy
ECON 475 - Money and Banking
HONR 360 - Seminars in Identity and Culture
POLS 101 - Power and Politics in America
POLS 202 - State and Local Government
POLS 240 - The Supreme Court in American Politics
POLS 243 - Crime and Punishment in America
POLS 316 - Constitutional Law
POLS 320 - Religion and Politics in America
POLS 323 - American Foreign Policy
POLS 333 - Legislative Politics
POLS 344 - The Presidency
POLS 347 - Justice, Politics and Policy
POLS 354 - Political Campaigns and Elections
POLS 359 - American Political Thought
POLS 363 - The Judicial Process
POLS 375 - Labor Law and Politics
POLS 382 - Women and Politics
POLS 395 - Special Topics
POLS 454 - American Political Behavior
SOCL 303 - The Family in Transition
SOCL 314 - Education, Culture and Society
SOCL 316 - Racial and Ethnic Relations
SOCL 320 - Sociology of Media and Popular Culture
SOWK 368W - Social Policy Analysis

Select two:

AMST 195 - Special Topics
AMST 295 - Special Topics
AMST 310 - The American Economy in Literature
AMST 330 - Treason in America
AMST 335W - Moot Court
AMST 340 - America at Sea
AMST 350 - Sex, Law, and Society
AMST 395 - Special Topics
AMST 399 - Independent Study in American Studies
AMST 495 - Special Topics
AMST 499 - Independent Study in American Studies
CLST 101 - Classical Roots of American Culture
DANC 205 - Classic Jazz Technique [Formerly THEA 145, equivalent]
ENGL 315 - Adolescent Literature
ENGL 341 - The Invasion of America: Concepts of Americanness
ENGL 342 - Financial Fictions and the Rise of Realism
ENGL 343 - Postmodern America
ENGL 345 - African-American Literature and Culture
ENGL 346 - Black Presence and Presentation on the American Stage
ENGL 381 - The Roaring Twenties: Film, Literature, and Drama of the Jazz Age
ENGL 385 - American Film
ENGL 410 - Southern American Literature
ENGL 412 - Multicultural American Literature
FNAR 372 - Arts in the United States
FNAR 375 - Pre-Columbian Art
HIST 121 - Early America to the Civil War
HIST 122 - Modern America: Reconstruction to Global Power
HIST 304 - U.S. Women's History
HIST 305 - History of Gender and Sexuality in the United States
HIST 324 - America and the Second World War [Formerly HIST 340, not equivalent]
HIST 327 - History on Film
HIST 336 - American Foreign Relations
HIST 340
HIST 341 - The Long Civil Rights Movement
HIST 348 - Historical Archaeology
HIST 349 - The Rise and Fall of American Slavery
HIST 350 - American Indians
HIST 351 - American Military History
HIST 352 - Colonial North America to 1700
HIST 354 - The American Revolution and Early Republic, 1775-1820
HIST 355 - Civil War and Reconstruction
HIST 356 - The United States in the Gilded Age and the Progressive Era, 1877-1919
HIST 357 - Twentieth Century America, 1920-1960
HIST 358 - Twentieth Century America, 1961-Present
HIST 372 - History of Virginia
HIST 453 - Empires of North America, 1700-1775
HONR 322
HONR 323
MUSC 214 - Jazz History and Literature [Formerly MUSC 408, equivalent]
PHIL 312 - American Philosophy
PHIL 425 - The Constitutional Theory
RSTD 319 - Religion and American Identity
RSTD 338 - Pilgrimage on the Appalachian Trail
THEA 346 - History of Musical Theater
THEA 361W - Broadway to Hollywood and Back

Select one:

AMST 195 - Special Topics
AMST 295 - Special Topics
AMST 340 - America at Sea
AMST 390 - American Studies and Travel
AMST 395 - Special Topics
AMST 495 - Special Topics
ANTH 377 - Women, Gender, and Culture [Same as SOCL 377]
COMM 340 - Intercultural Communication
ECON 470 - International Trade and Finance
ENGL 320W - Studies in Women and Literature
ENGL 425
FNAR 377 - Contemporary Art
GEOG 308 - The Urbanizing World [Same as SOCL 308]
HIST 325 - Cold War Politics and Culture
HIST 469
HONR 490W - Problems in the Modern World
PHIL 315 - Philosophy of Gender
POLS 215 - Comparative and International Politics
POLS 311W - Comparative Politics
POLS 358 - Modern Political Thought
POLS 368W - Comparative Criminal Justice Systems
POLS 402 - International Relations Theory and World Issues
PSYC 320 - Psychology of Gender
SOCL 377 - Women, Gender, and Culture [Same as ANTH 377]
Core
AMST 100 - The American Experiment: Formation of Democratic Life
AMST 200 - The American Experiment: Evolution
AMST 300 - The American Experiment: Global Influence
Electives (9 credits)
AMST 300 - The American Experiment: Global Influence
AMST 310 - The American Economy in Literature
AMST 330 - Treason in America
AMST 335W - Moot Court
AMST 340 - America at Sea
AMST 350 - Sex, Law, and Society
AMST 390 - American Studies and Travel
AMST 395 - Special Topics
AMST 399 - Independent Study in American Studies
AMST 490W - Capstone Seminar in American Studies
AMST 495 - Special Topics
AMST 499 - Independent Study in American Studies