Art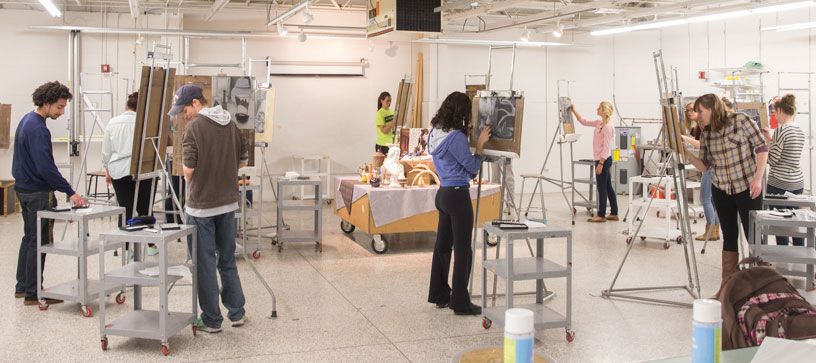 Studio Art
The studio art program will help you acquire the technical skills you need to explore the artistic concepts you develop. You'll have the opportunity, both in and outside of class, to understand what a working artist is by having your work reviewed, critiqued and exhibited. Additionally, if you're interested in teaching art, you can continue your studies in the Master of Arts in Teaching Program.
Art History
The art history program provides a strong basis in the history of world arts. Students take in-depth courses in the history and development of art and visual culture. Courses and other opportunities such as internships and independent studies allow you to learn and conduct sound research, present your work in both oral and written format, and establish a foundation for future graduate work or career development.
The minor in photography and video art is an excellent way to complement your major area of study while developing visual literacy. You'll learn analog and digital photography, and critically evaluate how photographic imagery and video shape our culture.
Our goal is to educate and prepare students for graduate study and for leadership in teaching and other arts-related professions.
We also support several minors across campus, including
African-American studies
Asian studies
Digital humanities
Film studies
Latin-American studies
Medieval and Renaissance studies
Museum studies
Core
FNAR 117 - 3D Design [Formerly 119, not equivalent]
FNAR 118 - 2D Design
FNAR 201 - World Art in Context I
FNAR 202 - Survey of World Art II
FNAR 490W - Senior Seminar in Art History
Select one:

FNAR 371 - Modern Art
FNAR 377 - Contemporary Art
Electives
Select one:

FNAR 373 - Italian Renaissance Art
FNAR 379 - Northern Renaissance Art

Select one:

FNAR 374 - Asian Art
FNAR 375 - Pre-Columbian Art
FNAR 380 - Caribbean Art
FNAR 381 - African Art
FNAR 395 - Special Topics
FNAR 403W - Advanced Topics in Art History

Select one:

FNAR 117 - 3D Design [Formerly 119, not equivalent]
FNAR 118 - 2D Design
FNAR 121 - Drawing I
FNAR 128 - Introduction to Digital Media
FNAR 204 - The Artistic Process
FNAR 205 - Digital Photography [Formerly FNAR 101, not equivalent]
FNAR 224 - Painting I
FNAR 226 - Mixed Media and Functional Art I
FNAR 227 - Darkroom Photography [Formerly FNAR 130, equivalent]
FNAR 241 - Ceramics I
FNAR 251 - Sculpture I
FNAR 252 - Printmaking I
FNAR 322 - Figure Drawing
FNAR 324 - Advanced Painting
FNAR 326 - Advanced Mixed Media and Functional Art
FNAR 327 - Advanced Darkroom Photography [Formerly FNAR 230, equivalent]
FNAR 331 - Advanced Digital Photography
FNAR 332 - Animation
FNAR 333 - Video Art
FNAR 334 - Graphic Design
FNAR 341 - Advanced Ceramics
FNAR 351 - Advanced Sculpture
FNAR 352 - Advanced Printmaking
FNAR 401 - Individual Problems in Studio
FNAR 402 - Advanced Studio Topics
FNAR 488 - Senior Seminar in Studio Art

Select five:

FNAR 117 - 3D Design [Formerly 119, not equivalent]
FNAR 118 - 2D Design
FNAR 121 - Drawing I
FNAR 128 - Introduction to Digital Media
FNAR 204 - The Artistic Process
FNAR 205 - Digital Photography [Formerly FNAR 101, not equivalent]
FNAR 224 - Painting I
FNAR 226 - Mixed Media and Functional Art I
FNAR 227 - Darkroom Photography [Formerly FNAR 130, equivalent]
FNAR 241 - Ceramics I
FNAR 251 - Sculpture I
FNAR 252 - Printmaking I
FNAR 322 - Figure Drawing
FNAR 324 - Advanced Painting
FNAR 326 - Advanced Mixed Media and Functional Art
FNAR 327 - Advanced Darkroom Photography [Formerly FNAR 230, equivalent]
FNAR 331 - Advanced Digital Photography
FNAR 332 - Animation
FNAR 333 - Video Art
FNAR 334 - Graphic Design
FNAR 341 - Advanced Ceramics
FNAR 351 - Advanced Sculpture
FNAR 352 - Advanced Printmaking
FNAR 401 - Individual Problems in Studio
FNAR 402 - Advanced Studio Topics
FNAR 488 - Senior Seminar in Studio Art
FNAR 201 - World Art in Context I
FNAR 202 - World Art in Context II
Select One (three credits):

FNAR 117 - 3D Design
FNAR 118 - 2D Design
FNAR 121 - Drawing I
FNAR 128 - Introduction to Digital Media
FNAR 204 - The Artistic Process
FNAR 205 - Digital Photography
FNAR 224 - Painting I
FNAR 226 - Mixed Media and Functional Art I
FNAR 227 - Darkroom Photography
FNAR 241 - Ceramics I
FNAR 251 - Sculpture I
FNAR 252 - Printmaking I
FNAR 322 - Figure Drawing
FNAR 324 - Advanced Painting
FNAR 326 - Advanced Mixed Media and Functional Art
FNAR 327 - Advanced Darkroom Photography
FNAR 331 - Advanced Digital Photography
FNAR 332 - Animation
FNAR 333 - Video Art
FNAR 334 - Graphic Design
FNAR 341 - Advanced Ceramics
FNAR 351 - Advanced Sculpture
FNAR 352 - Advanced Printmaking
FNAR 401 - Individual Problems in Studio
FNAR 402 - Advanced Studio Topics
FNAR 488 - Senior Seminar in Studio Art

Select Three (nine credits):
FNAR 201 - World Art in Context I
FNAR 202 - World Art in Context II
FNAR 204 - The Artistic Process
FNAR 371W - Modern Art
FNAR 372 - Arts in the United States
FNAR 373 - Italian Renaissance Art
FNAR 374 - Asian Art
FNAR 375 - Pre-Columbian Art
FNAR 376 - Medieval Art
FNAR 377 - Contemporary Art
FNAR 378 - Baroque Art
FNAR 379 - Northern Renaissance Art
FNAR 380 - Caribbean Art
FNAR 381 - African Art
FNAR 395 - Special Topics
FNAR 403W - Advanced Topics in Art History
FNAR 490W - Senior Seminar in Art History
CLST 311 - Ancient Greek Art
CLST 312 - Ancient Roman Art
Core
FNAR 117 - 3D Design [Formerly 119, not equivalent]
FNAR 118 - 2D Design
FNAR 121 - Drawing I
FNAR 128 - Introduction to Digital Media
FNAR 201 - World Art in Context I
FNAR 202 - Survey of World Art II
Select one:

FNAR 371 - Modern Art
FNAR 377 - Contemporary Art

FNAR 488 - Senior Seminar in Studio Art
Electives
Select six (minimum four at the 300-400 level):

FNAR 117 - 3D Design [Formerly 119, not equivalent]
FNAR 118 - 2D Design
FNAR 121 - Drawing I
FNAR 128 - Introduction to Digital Media
FNAR 204 - The Artistic Process
FNAR 205 - Digital Photography [Formerly FNAR 101, not equivalent]
FNAR 224 - Painting I
FNAR 226 - Mixed Media and Functional Art I
FNAR 227 - Darkroom Photography [Formerly FNAR 130, equivalent]
FNAR 241 - Ceramics I
FNAR 251 - Sculpture I
FNAR 252 - Printmaking I
FNAR 322 - Figure Drawing
FNAR 324 - Advanced Painting
FNAR 326 - Advanced Mixed Media and Functional Art
FNAR 327 - Advanced Darkroom Photography [Formerly FNAR 230, equivalent]
FNAR 331 - Advanced Digital Photography
FNAR 332 - Animation
FNAR 333 - Video Art
FNAR 334 - Graphic Design
FNAR 341 - Advanced Ceramics
FNAR 351 - Advanced Sculpture
FNAR 352 - Advanced Printmaking
FNAR 401 - Individual Problems in Studio
FNAR 402 - Advanced Studio Topics

Select two:

FNAR 117 - 3D Design [Formerly 119, not equivalent]
FNAR 118 - 2D Design
FNAR 121 - Drawing I
FNAR 128 - Introduction to Digital Media
FNAR 204 - The Artistic Process
FNAR 205 - Digital Photography [Formerly FNAR 101, not equivalent]
FNAR 224 - Painting I
FNAR 226 - Mixed Media and Functional Art I
FNAR 227 - Darkroom Photography [Formerly FNAR 130, equivalent]
FNAR 241 - Ceramics I
FNAR 251 - Sculpture I
FNAR 252 - Printmaking I
FNAR 322 - Figure Drawing
FNAR 324 - Advanced Painting
FNAR 326 - Advanced Mixed Media and Functional Art
FNAR 327 - Advanced Darkroom Photography [Formerly FNAR 230, equivalent]
FNAR 331 - Advanced Digital Photography
FNAR 332 - Animation
FNAR 333 - Video Art
FNAR 334 - Graphic Design
FNAR 341 - Advanced Ceramics
FNAR 351 - Advanced Sculpture
FNAR 352 - Advanced Printmaking
FNAR 401 - Individual Problems in Studio
FNAR 402 - Advanced Studio Topics
FNAR 488 - Senior Seminar in Studio Art
Core (12 credits)
FNAR 117 - 3D Design [Formerly 119, not equivalent]
FNAR 118 - 2D Design
FNAR 201 - World Art in Context I
FNAR 202 - Survey of World Art II
Electives (12 credits)
One studio art course at or above the 200 level
Two studio art courses at or above the 300 level
One art history course at or above the 300 level

FNAR 201 - World Art in Context I
FNAR 201 - World Art in Context I: Ancient to Medieval
FNAR 202 - Survey of World Art II
FNAR 202 - World Art in Context II
FNAR 202 - World Art in Context II: Renaissance to Modern
FNAR 204 - The Artistic Process
FNAR 205 - Digital Photography [Formerly FNAR 101, not equivalent]
FNAR 224 - Painting I
FNAR 226 - Mixed Media and Functional Art I
FNAR 227 - Darkroom Photography [Formerly FNAR 130, equivalent]
FNAR 241 - Ceramics I
FNAR 251 - Sculpture I
FNAR 252 - Printmaking I
FNAR 295 - Special Topics
FNAR 322 - Figure Drawing
FNAR 324 - Advanced Painting
FNAR 326 - Advanced Mixed Media and Functional Art
FNAR 327 - Advanced Darkroom Photography [Formerly FNAR 230, equivalent]
FNAR 331 - Advanced Digital Photography
FNAR 332 - Animation
FNAR 333 - Video Art
FNAR 334 - Graphic Design
FNAR 341 - Advanced Ceramics
FNAR 351 - Advanced Sculpture
FNAR 352 - Advanced Printmaking
FNAR 371W - Modern Art
FNAR 372 - Arts in the United States
FNAR 373 - Italian Renaissance Art
FNAR 374 - Asian Art
FNAR 375 - Pre-Columbian Art
FNAR 376 - Medieval Art
FNAR 377 - Contemporary Art
FNAR 378 - Baroque Art
FNAR 379 - Northern Renaissance Art
FNAR 380 - Caribbean Art
FNAR 381 - African Art
FNAR 395 - Special Topics
FNAR 401 - Individual Problems in Studio
FNAR 402 - Advanced Studio Topics
FNAR 403W - Advanced Topics in Art History
FNAR 491 - Practicum in Studio Art/Art History
FNAR 495 - Special Topics
FNAR 499 - Independent Study
FNAR 227 - Darkroom Photography [Formerly FNAR 130, equivalent]
FNAR 205 - Digital Photography [Formerly FNAR 101, not equivalent]
FNAR 327 - Advanced Darkroom Photography [Formerly FNAR 230, equivalent]
FNAR 331 - Advanced Digital Photography
FNAR 333 - Video Art
ENGL 356W - Film, Theory and Culture
Select one:

FNAR 371W - Modern Art
FNAR 377 - Contemporary Art