Music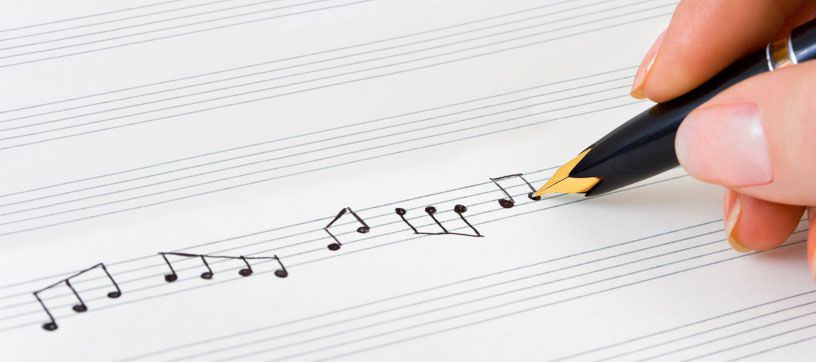 We offer two degrees in music. In addition, the master of arts in teaching program offers concentrations in pre-certification instrumental and pre-certification choral. Students in that program graduate in four years with a bachelor's degree, then complete an additional year of study leading to a master's degree and a recommendation for teacher certification.
Acceptance into the music programs is highly competitive. In addition to applying for admission to Christopher Newport, you must also apply to the Department of Music and complete an entrance audition.
Bachelor of music
The primary emphasis is on the development of skills and knowledge necessary to succeed as a teacher, performer, composer and scholar.
Bachelor of arts
Provides fundamental knowledge in written and aural skills, the history and development of music, and performance. This program is for those who seek a general education rather than intense specialization.
Christopher Newport is accredited by the National Association of Schools of Music.
Core
APP MUSC 131 - Applied Music
APP MUSC 132 - Applied Music
APP MUSC 231 - Applied Music
APP MUSC 232 - Applied Music
MUSC 014 (four semesters)
Eight credits in:

MUSC 101 - Wind Ensemble
MUSC 102 - University Orchestra
MUSC 105 - Chamber Choir
MUSC 106 - Women's Chorus
MUSC 111
MUSC 112 - Marching Band
MUSC 114 - University Band
MUSC 117 - Men's Chorus

Four semesters of piano
MUSC 012 - Performance Attendance (eight semesters)
MUSC 492 - Music Capstone Project
Electives
Six credits of upper-level music electives
Six credits of upper-level, non-music electives
Nine credits of upper- or lower-level non-music electives
MUSC 125 - Elementary Improvisation Skills
MUSC 200 - Music Technology
MUSC 209 - Elementary Ear Training
MUSC 210 - Elementary Ear Training
MUSC 211 - The Tonal System
MUSC 212 - Tonal Harmony and Voice Leading
MUSC 303 - History of Western Music
MUSC 304 - History of Western Music
MUSC 305W - History of Western Music
MUSC 306 - Global Transformations: "World Music" and the "World"
MUSC 309 - Advanced Ear Training
MUSC 310 - Advanced Ear Training
MUSC 311 - Chromatic Harmony
MUSC 312 - Extended Tonal Techniques and Atonality
Select one:

MUSC 314 - Principles of Choral Conducting
MUSC 316 - Principles of Instrumental Conducting

Select one:

PHIL 201 - Ancient and Medieval Philosophy
PHIL 202 - Modern Philosophy
PHIL 207 - Ethical Issues in Business: A Critical Thinking Approach
PHIL 304 - Ethics and Current Value Questions
PHIL 337 - Radical Evil and the Philosophy of Law
PHIL 376 - Environmental Ethics
PHIL 384 - Medical Ethics
RSTD 337 - Religion and Ecology

Three credits in FNAR
Three credits in THEA
MUSC 125 - Elementary Improvisation Skills
MUSC 200 - Music Technology
MUSC 209 - Elementary Ear Training
MUSC 210 - Elementary Ear Training
MUSC 211 - The Tonal System
MUSC 212 - Tonal Harmony and Voice Leading
MUSC 303 - History of Western Music I
MUSC 304 - History of Western Music
MUSC 305W - History of Western Music
MUSC 306 - Global Transformations: "World Music" and the "World"
MUSC 309 - Advanced Ear Training
MUSC 310 - Advanced Ear Training
MUSC 311 - Chromatic Harmony
MUSC 312 - Extended Tonal Techniques and Atonality
MUSC 314 - Principles of Choral Conducting
MUSC 401W - Seminar in Music Bibliography
MUSC 220 - Brass Instrument Techniques
MUSC 230 - Woodwind Instrument Techniques
MUSC 240 - Percussion Techniques
MUSC 250 - String Instrument Techniques
MUSC 265 - Foreign Language Diction I
MUSC 266 - Foreign Language Diction II
One 200-level course in French, German or Italian
MUSC 415 - Orchestration
MUSC 496 - Vocal Pedagogy
MUSC 510 - Foundations of Music Education
MUSC 520 - Choral Literature and Conducting
MUSC 580 - Jazz Ensemble Techniques
APP MUSC 131-132 - Applied Music
APP MUSC 231-232 - Applied Music
APP MUSC 331-332 - Applied Music
APP MUSC 431-432 - Applied Music: Senior Recital
Eight credits in any of the following:

MUSC 105 - Chamber Choir
MUSC 106 - Women's Chorus
MUSC 117 - Men's Chorus

MATH 125 - Elementary Statistics
Select one:

PSYC 207 - Lifespan Development
PSYC 208 - Child Development

PSYC 312 - Educational Psychology
SOCL 314 - Education, Culture and Society
CPSC 110 - Introduction to Computing
THEA 230 - Practical Acting: From Broadway to Boardroom
Four semesters of piano
One credit of electives, in or outside of MUSC
Eight semesters in MUSC 012 - Performance Attendance and MUSC 014 - Masterclass
MUSC 125 - Elementary Improvisation Skills
MUSC 200 - Music Technology
MUSC 209 - Elementary Ear Training
MUSC 210 - Elementary Ear Training
MUSC 211 - The Tonal System
MUSC 212 - Tonal Harmony and Voice Leading
MUSC 303 - History of Western Music I
MUSC 304 - History of Western Music
MUSC 305W - History of Western Music
MUSC 306 - Global Transformations: "World Music" and the "World"
MUSC 309 - Advanced Ear Training
MUSC 310 - Advanced Ear Training
MUSC 311 - Chromatic Harmony
MUSC 312 - Extended Tonal Techniques and Atonality
Select one:

MUSC 314 - Principles of Choral Conducting
MUSC 316 - Principles of Instrumental Conducting

MUSC 401W - Seminar in Music Bibliography
MUSC 411 - Post-Tonal Theory
MUSC 413 - Counterpoint
MUSC 415 - Orchestration
APP COMP 131-132 and APP COMP 231-232
APP MUSC 131-132 and APP MUSC 231-232 (non-composition); four semesters of MUSC 014 - Masterclass
APP COMP 331-332 and APP COMP 431-432; four semesters of MUSC 014 - Masterclass
MUSC 220 - Brass Instrument Techniques
MUSC 230 - Woodwind Instrument Techniques
MUSC 240 - Percussion Techniques
MUSC 250 - String Instrument Techniques
Twelve credits of electives within or outside of MUSC
Eight credits in:

MUSC 101 - Wind Ensemble
MUSC 102 - University Orchestra
MUSC 105 - Chamber Choir
MUSC 106 - Women's Chorus
MUSC 111
MUSC 112 - Marching Band
MUSC 114 - University Band
MUSC 117 - Men's Chorus

Four semesters of piano
Eight semesters in MUSC 012 - Performance Attendance
MUSC 125 - Elementary Improvisation Skills
MUSC 200 - Music Technology
MUSC 209 - Elementary Ear Training
MUSC 210 - Elementary Ear Training
MUSC 211 - The Tonal System
MUSC 212 - Tonal Harmony and Voice Leading
MUSC 303 - History of Western Music I
MUSC 304 - History of Western Music
MUSC 305W - History of Western Music
MUSC 306 - Global Transformations: "World Music" and the "World"
MUSC 309 - Advanced Ear Training
MUSC 310 - Advanced Ear Training
MUSC 311 - Chromatic Harmony
MUSC 312 - Extended Tonal Techniques and Atonality
MUSC 316 - Principles of Instrumental Conducting
MUSC 401W - Seminar in Music Bibliography
MUSC 220 - Brass Instrument Techniques
MUSC 230 - Woodwind Instrument Techniques
MUSC 240 - Percussion Techniques
MUSC 250 - String Instrument Techniques
MUSC 260 - Voice Techniques
MUSC 415 - Orchestration
MUSC 510 - Foundations of Music Education
MUSC 580 - Jazz Ensemble Techniques
Select one depending on area of concentration:

MUSC 530 - Wind Literature and Conducting
MUSC 540 - Orchestral Literature and Conducting

APP MUSC 131-132 - Applied Music
APP MUSC 231-232 - Applied Music
APP MUSC 331-332 - Applied Music
APP MUSC 431-432 - Applied Music: Senior Recital
Eight credits in any of the following:

MUSC 101 - Wind Ensemble
MUSC 102 - University Orchestra
MUSC 111 -
MUSC 112 - Marching Band (four credits of MUSC 112 are required for band emphasis)
MUSC 114 - University Band

MATH 125 - Elementary Statistics
Select one:

PSYC 207 - Lifespan Development
PSYC 208 - Child Development

PSYC 312 - Educational Psychology
SOCL 314 - Education, Culture and Society
CPSC 110 - Introduction to Computing
THEA 230 - Practical Acting: From Broadway to Boardroom
Four semesters of piano
Eight semesters in MUSC 012 - Performance Attendance and MUSC 014 - Masterclass
Four credits of chamber ensembles (MUSC 124 for percussion)
One credit of electives in or outside of MUSC
Brass, Woodwinds, Percussion, Keyboard, Strings, Voice
MUSC 125 - Elementary Improvisation Skills
MUSC 200 - Music Technology
MUSC 209 - Elementary Ear Training
MUSC 210 - Elementary Ear Training
MUSC 211 - The Tonal System
MUSC 212 - Tonal Harmony and Voice Leading
MUSC 303 - History of Western Music I
MUSC 304 - History of Western Music
MUSC 305W - History of Western Music
MUSC 306 - Global Transformations: "World Music" and the "World"
MUSC 309 - Advanced Ear Training
MUSC 310 - Advanced Ear Training
MUSC 311 - Chromatic Harmony
MUSC 312 - Extended Tonal Techniques and Atonality
Select one:

MUSC 314 - Principles of Choral Conducting
MUSC 316 - Principles of Instrumental Conducting

Instrumentalists select one:

MUSC 391 - String Literature and Pedagogy
MUSC 394 - Keyboard Literature and Pedagogy
MUSC 396 - Woodwind Literature and Pedagogy
MUSC 39
MUSC 398 - Percussion Literature and Pedagogy

Vocalists must take:

MUSC 261 - Opera Workshop
MUSC 265 - Foreign Language Diction I
MUSC 266 - Foreign Language Diction II
MUSC 450 - Vocal Literature
MUSC 496 - Vocal Pedagogy
THEA 230 - Practical Acting: From Broadway to Boardroom
One 200-level course in French, German or Italian

Keyboardists must take an upper-level music elective, and all instrumentalists must take an upper-level elective that is writing intensive
Twelve credits of electives within or outside of MUSC
APP MUSC 133-134 - Applied Music
APP MUSC 233-234 - Applied Music
APP MUSC 333-334 - Applied Music: Junior recital)
APP MUSC 433-434 - Applied Music: Senior recital)
Eight credits in:

MUSC 101 - Wind Ensemble
MUSC 102 - University Orchestra
MUSC 111
MUSC 112 - Marching Band
MUSC 114 - University Band

Four credits of chamber ensembles for instrumentalists (for percussion take MUSC 124 - Percussion Ensemble)
Four for keyboardists
Eight credits in:

MUSC 105 - Chamber Choir
MUSC 106 - Women's Chorus
MUSC 117 - Men's Chorus

One credit in MUSC 107 - Opera CNU for vocalists
Four semesters of piano (keyboardists must take MUSC 216 - Advanced Keyboard Skills II)
Eight semesters in MUSC 012 - Performance Attendance and MUSC 014 - Masterclass