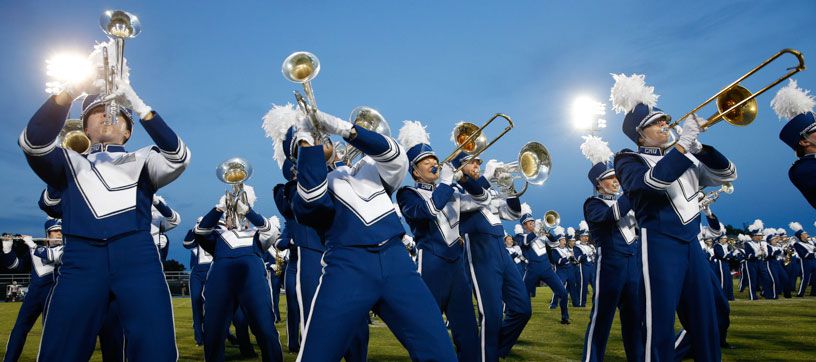 The Marching Captains
The Marching Captains are a high-energy, corps-style marching band that perform at all Christopher Newport home football games, events throughout Hampton Roads, Virginia and around the world. Notable performances include the Philadelphia Thanksgiving Day Parade, the New Years Day Parade in London, a performance of the national anthem at a Washington Nationals baseball game and the St. Patrick's Day Parade in Dublin.
At over 200 members, the Marching Captains are one of the largest NCAA Division III marching bands in the country. The band is composed of students from all disciplines around campus, and all CNU students are welcome to join. Auditions for the Marching Captains occur on the first day of band camp, which is held one week before classes begin in the fall semester. Information regarding band camp is distributed during the Setting Sail freshman orientation sessions held in the summer.
As a Marching Captain, you will earn college credit for each semester that you participate by registering for MUSC 112 Marching Band. Successful completion of three semesters as a Marching Captain meets the creative expressions liberal learning requirement for graduation.