Office of Teacher Preparation
Michael Bigelow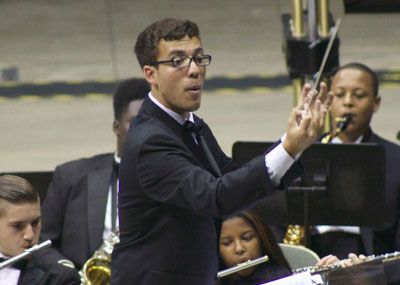 Michael Bigelow graduated with his bachelor of music degree in instrumental music education in May 2012. He graduated with his master of arts in teaching in music education in May 2013.
Bigelow completed his student teaching in two different locations: he spent his first six weeks with Bryan Austin at Woodside High School and then with Cynthia Marshall at Greenwood Elementary for his second six weeks. He taught music at both schools, which are located right next to each other in Newport News.
Bigelow has been teaching at Spratley Gifted Center and Kecoughtan High School in Hampton City Schools for four years now. He is the band director at Spratley and the assistant band director at Kecoughtan. He teaches sixth, seventh and eighth grade band at Spratley and beginning band, music production and concert band at Kecoughtan.
During his second year at Spratley, the Spratley Seahawk Band received a superior rating, the highest rating possible, at the District VIII Concert Band Assessment. During his third year at Spratley, the Spratley Seahawk Band received yet another superior rating at District Assessment, as well as placing first and receiving Overall Grand Champion at the King's Dominion Festival of Music.
Also during his third year, the Spratley Seahawk band received the VBODA Blue Ribbon Award. This award is only given to schools in Virginia in which all the top ensembles (band, chorus and/or orchestra) receive a superior rating at their respective District Assessments. Spratley's band and chorus were able to secure a superior rating, and the school became the only school in Hampton and the only one out of two schools in the district to receive the award.
When asked what inspired him to become a teacher, Bigelow explains, "I was inspired to become a teacher thanks to two very important people: my piano teacher Mrs. Kanakry and my middle school band director Mr. Bernhards. They were the two most amazing teachers I could've ever had, or anyone could've had, for that matter. Their love for music was unmistakable, but their love for teaching glowed even brighter. They showed passion in what they were teaching, and I knew I wanted to be exactly like that. If I had not had those two people in my life, I absolutely would not be where I am today."
Sharing his favorite part of teaching, Bigelow says, "What I love most about teaching is the deep-rooted connections that you make with the kids. The light bulb that goes on in their head when they finally get something, the 'A-HA!' moment if you will. The feeling that you get when the kids trust you and see you as more than just an authority figure, but as one of the most important people in their life. The smiles that light up the room whenever they see you. And most importantly, how kids start to love your craft just as much as you do. It's an incredible feeling to have."
When asked to give advice to new teachers or those pursuing teaching, Bigelow says, "Please don't expect every day to be the same, because more than likely something is going to knock you off course and you have to find your way back. You may have the perfect plan, but nine out of 10 times it might not go the way you want it to. Things aren't going to perfectly, because, let's face it, when you're teaching kids, things are never going to go perfectly. There's always something that comes up unexpectedly. However, it's how you face those unexpected challenges that really matter. How do you rise to the occasion? How do you modify your plan? How do you react? And when you step back and look at how you respond to a challenge, make sure to always reflect. What worked? What didn't work? As a teacher, we are always learning and I hope that for myself, or for any teacher for that matter, I never stop learning."