Office of Teacher Preparation
Stephanie Spiroff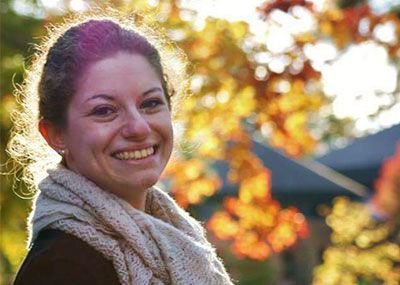 Stephanie Spiroff graduated from CNU's Honors Program in 2015 with a bachelor's of arts in psychology. She completed her elementary student teaching in a kindergarten classroom at Sanford Elementary School and graduated from the MAT program in 2016. Upon graduating from the MAT program Spiroff taught the Summer Program for Arts, Recreation and Knowledge at Palmer Elementary School, working with rising third graders. She recently completed her first year of teaching as a second grade teacher at Sanford Elementary School in Newport News.
Spiroff cites her excellent elementary school teachers as her inspiration to become a teacher. "It was a foundational time for me," she says. "My teachers in K-5 had an incredible impact on my success today." When asked about her favorite part of teaching, she adds, "I love watching my students have those 'ah-ha' moments where you can see a light bulb go off. It's an honor to be able to watch these kids grow and know that I am a special part of that growth."
As rewarding as she finds teaching, Spiroff admits that the path can often be difficult. She is a strong advocate for those who want to teach and encourages them to follow their passion. "Don't let anything stop you or get in your way of pursuing your dream," she says. "It won't necessarily be an easy path toward feeling comfortable in a full-time teaching position, but I promise it's beyond worthwhile."
She recommends that new teachers not be afraid to reach out for help when they need it and to foster relationships with teammates, mentors and administrators. "These relationships will inspire and challenge you while simultaneously equipping you with resources and support you as a new teacher," she says.
Stephanie spent this summer teaching in a primary school in Cape Town, South Africa. She loves teaching abroad and one day hopes to teach in Africa full-time