The Christopher Newport University community engages and respects different viewpoints, understands the cultural and structural context in which those viewpoints emerge, and questions the development of our own perspectives and values, as these are among the fundamental tenets of a liberal arts education.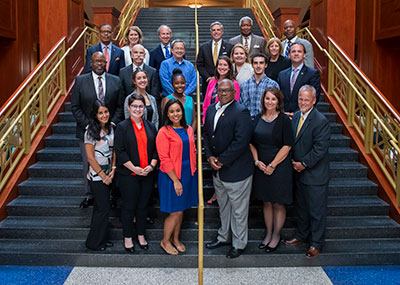 The Council on Diversity and Inclusion spotlights and applauds these steps, small and large, to advance diversity and inclusion at Christopher Newport University:
The Council, chaired by a Board of Visitors member, and made up of faculty, staff, students, community and board members, meets regularly.
President Trible authored an op-ed supporting diversity and inclusion goals that was published in the Richmond Times-Dispatch.
University Police helped Williamsburg House of Mercy provide Thanksgiving assistance to low-income residents.
The University launched the Community Captains program with Newport News Public Schools to prepare first-generation and low socioeconomic-level high school students for college and began a fundraising campaign to reduce cost of attendance.
Diversity and inclusion as values of the University have been added to orientation for every new employee and the statement was included in many position postings.
Planning is underway for Martin Luther King Jr. Day 2020 to include pausing classes on that day for a variety of events.
A University vice president directs diversity and inclusion initiatives, a special assistant focuses on this work full-time and the effort receives significant financial support.
A message on the importance of diversity is now part of the president's remarks at signature events.
About 40 faculty/staff members have taken Safe Zone Training and are open to talking about and being supportive of LGBTQ individuals and identities.
The University partnered with Hired Hands - an organization that prepares persons with disabilities for competitive jobs that add satisfaction and purpose to their lives.
The first Jewish studies faculty member with a named professorship has been hired and will begin teaching in fall 2019.
The University has solidified its record as a statewide pacesetter in procuring goods and services through Virginia's Small, Women-owned, and Minority-owned Business (SWaM) certification program.