Inter-Fraternity Council Annual Lip-Sync Battle
Christopher Newport's Inter-fraternity Council held its annual lip-sync battle in order to raise money for Rosemary Trible's organization Fear 2 Freedom and bring awareness to sexual assault prevention.
  Tuesday, November 15, 2016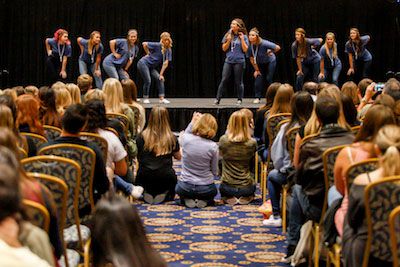 Each year Christopher Newport's Inter-Fraternity Council (IFC) partners with Fear 2 Freedom, an organization headed by Rosemary Trible, which seeks to change the cultural understanding of sexual assault and empower college students to "be the change" and "spread the joy." IFC's annual lip-sync battle raised about $2,200 – more than $600 over last year's total. The event took place in the David Student Union ballroom, where members of CNU's Greek organizations performed their songs of choice to the cheers (or jeers, as the case may be) of their classmates.
IFC oversees seven fraternities and acts as a liaison between them and administration. The partnership with Fear 2 Freedom is an effort highlight the two groups' awareness and prevention efforts. As IFC's Vice President of Community Affairs, junior David Negrin, says, it's an issue fraternities can often be unfairly stigmatized for. "In Greek life as a whole we're really fed up with the portrayal of Greek life and sexual assault," he says. "Our mission is to build better fraternities, and these fraternities build better men."