Business Majors Win Second Place in Data Analytics Competition
Four seniors are runners-up at annual University of Pittsburgh contest aimed at solving retail industry issues.
  Friday, April 6, 2018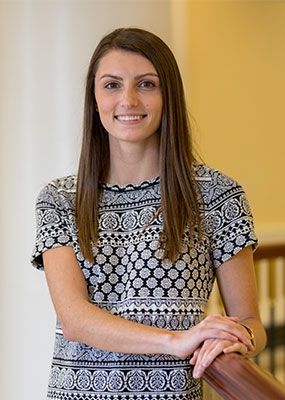 A team of four Christopher Newport seniors, Kaitlyn Neitz, Brandon Bell, David Negrin and Max Katcher placed second at an annual business data analytics competition hosted by the University of Pittsburgh.
The two-day tournament was held March 22-23 and involved student teams using advanced data analytics techniques to find solutions to prevalent retail industry issues. The CNU team won a $2,000 prize in addition to the opportunity to network with industry analytics experts.
"We all worked extremely hard to develop our skills and make it to the final round," Neitz explains. "The experience of furthering our knowledge of data analytics while honing our abilities to work as a team was invaluable."
Neitz, a marketing major with a minor in digital humanities, had initially intended to study computer science due to inspiration from her father. "My dad's career constantly revolved around math and programming so I was eager to follow in his footsteps," she says. "However, after understanding the value of data analytics to future marketing environments, I became interested in the idea of solving problems with technology and cybersecurity."
After graduating, Neitz will continue her education in analytics in the accelerated master of science in business analytics program at the College of William & Mary. "I'm looking forward to pursuing as many connections as possible when I get there," she says. "It's a wonderful opportunity to be successful and help my career grow."