Anheuser-Busch hosts PCSE Mentorship Program Closing Reception
Program matches female engineering and science majors with industry mentors.
  Thursday, May 10, 2018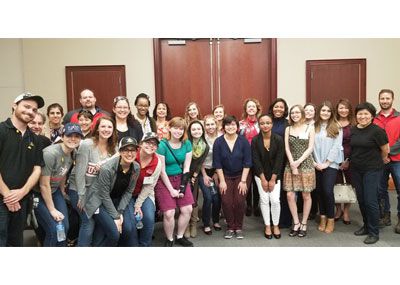 Anheuser-Busch recently hosted students from the Department of Physics, Computer Science and Engineering (PCSE) as they celebrated the conclusion of another successful year of the department's Mentorship Program. The program matches female engineering and science majors with women working in relevant industries in Hampton Roads, with the goal to help the students establish meaningful relationships with professionals in their field.
The reception was at the Williamsburg brewery. During the event, several students and mentors talked about their positive experiences with the program and the mutual benefits for both mentors and participants. The keynote presentation was given by Jeff Scott, senior general manager at Anheuser-Busch Williamsburg. "We were excited to be able to host the closing reception and we will continue to look for ways to enhance the interest, engagement and development of our female colleagues as part of our commitment to an inclusive environment," says Scott.
"We are grateful for Anheuser-Busch's support of our students and our program, and for their dedication to empowering women in the STEM fields." says Clare Maliniak, coordinator of the mentorship program. "Three engineers from the brewery volunteered as mentors this year, and we hope to keep them all on board and recruit even more for next year. It is great to have such supportive partners in the community."