To help fulfill its mission, the Reiff Center offers a variety of educational programs and conferences on human rights and conflict resolution.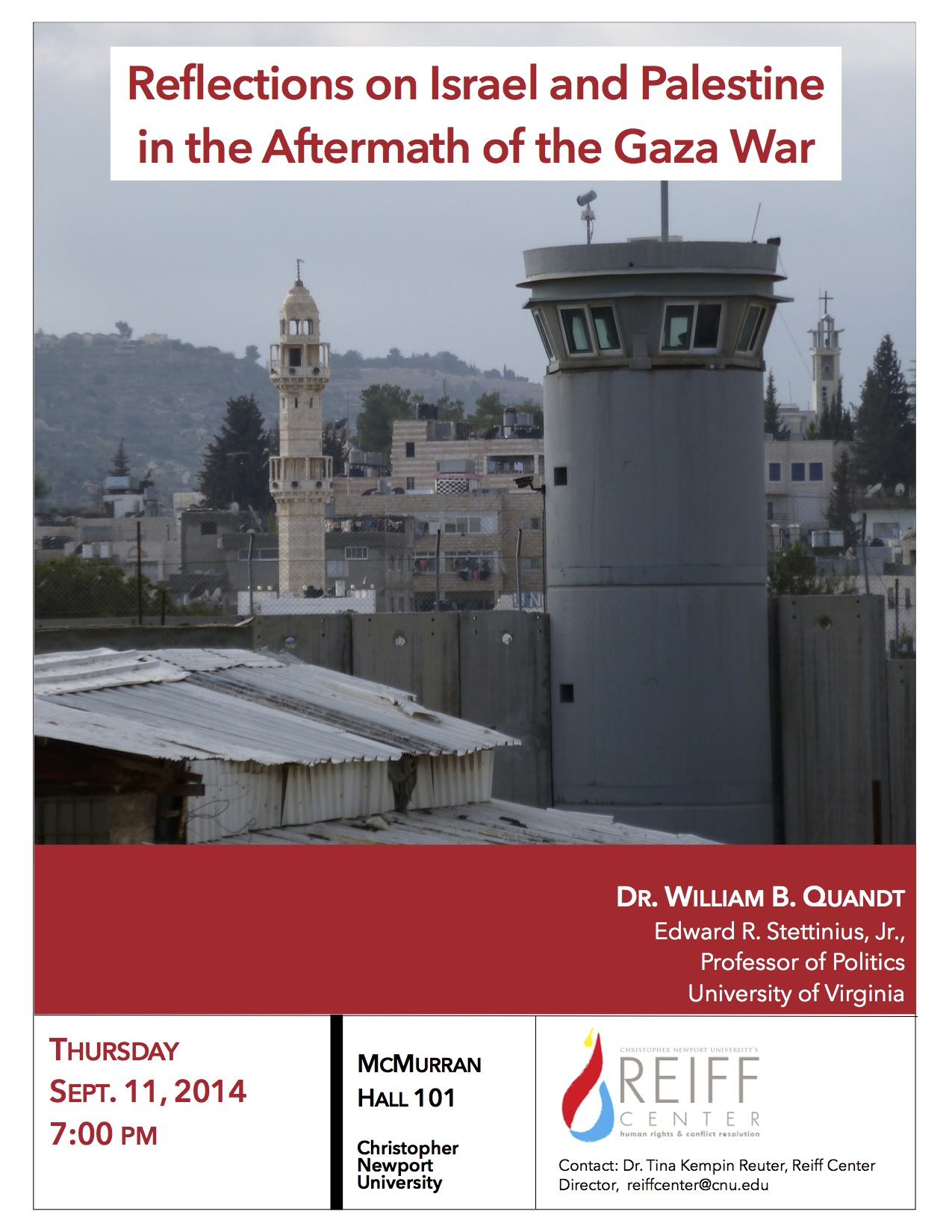 Thursday, September 11
The Israeli-Palestinian conflict after Gaza
7 p.m., McMurran 101
Dr. William Quandt of the University of Virginia will speak about the recent conflict in Gaza and how its implications on the Israeli-Palestinian conflict and peace process. 
Thursday, October 9
Demands on U.S. forces facing current global threats and challenges
6 p.m., Freeman Center 201
General David G. Perkins, Commanding General, U.S. Army Training and Command 
Co-sponsored with World Affairs Council of Greater Hampton Roads
2014-15 Academic Year
September 2
Lessons from Ferguson: Race, Law Enforcement, and the Potential Abuse of Power
Panel discussion: Dr. Tina Kempin Reuter, Reiff Center, moderation; Dr. Pete Carlson, Government; Prof. Harry Greenlee, Government; Dr. Patricia Hopkins, English; Dr. Antonia Randolph, Sociology
2013-14 Academic Year
February 4
Challenges and Differences in Humanitarian and Human Rights Work: Case Studies From Colombia and Sahara
Speaker: Dr. Arancha Garcia Del Soto (Fundación Juan March and Fordham University)

January 23
Practical Peacebuilding: The Mali Experience
Speaker: Judy Buelow (U.S. State Department)
March 13
The World Through Arab Eyes
Speaker: Dr. Shibley Telhami, Anwar Sadat Professor for Peace and Development at the University of Maryland
Co-sponsored with World Affairs Council of Greater Hampton Roads
March 18
Screening of Hotel Rwanda (discussion led by Dr. Tina Kempin Reuter)
Co-sponsored with student clubs STAND and the Film Club
March 21
Conference on "The Arab Spring and its Aftermath" 
April 8
Investigating War Crimes: Bringing Demons to Justice
Speaker: Dr. John Cencich, UN War Crimes Investigator and Professor and Director, Center for Criminological & Forensic Sciences, California University of Pennsylvania