To help fulfill its mission, the Reiff Center offers a variety of educational programs and conferences on human rights and conflict resolution.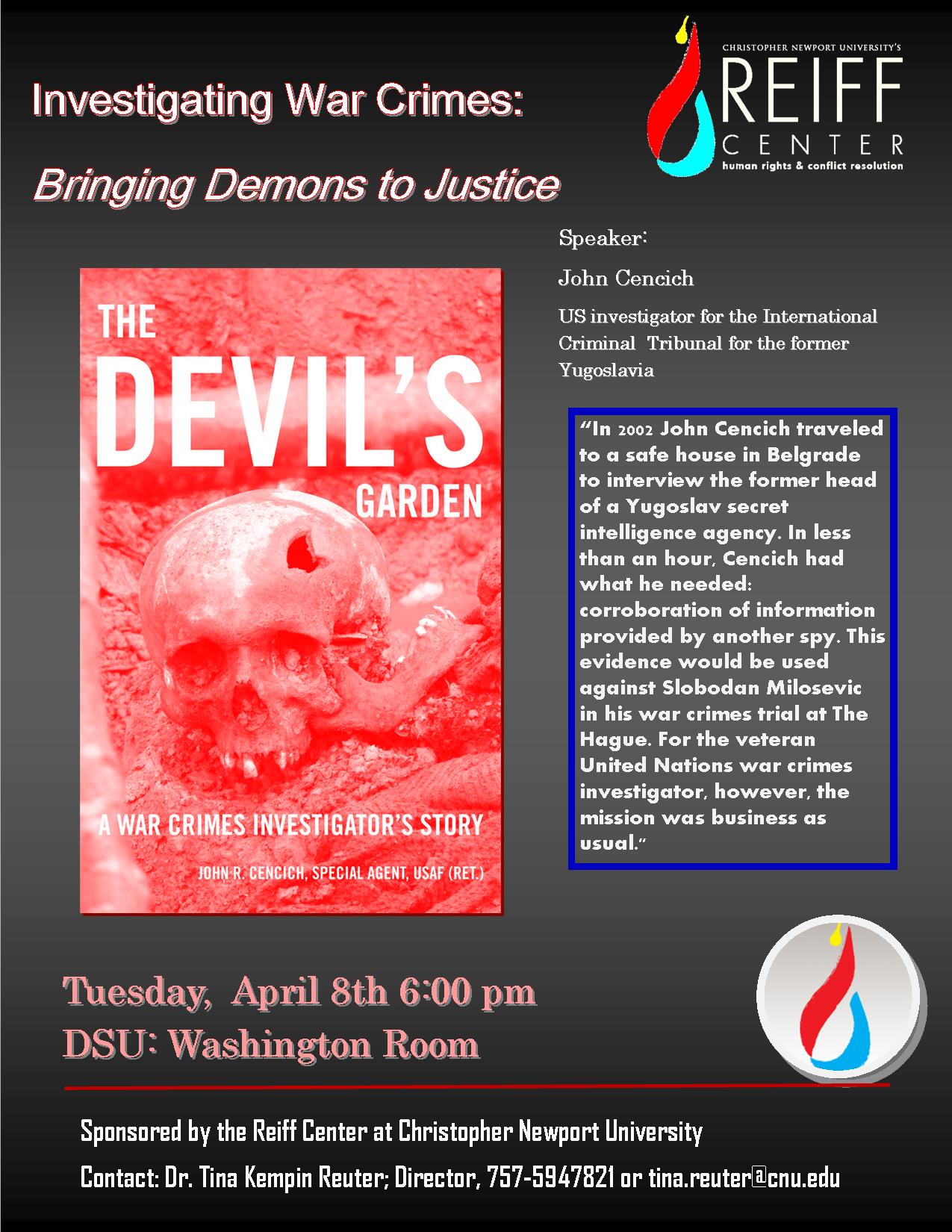 April 8
Investigating War Crimes: Bringing Demons to Justice
6 p.m., DSU Washington Room
by Dr. John Cencich, UN War Crimes Investigator and Professor and Director, Center for Criminological & Forensic Sciences, California University of Pennsylvania
In 2002 John Cencich traveled to a safe house in Belgrade to interview the former head of a Yugoslav secret intelligence agency. In less than an hour, Cencich had what he needed: corroboration of information provided by another spy. This evidence would be used against Slobodan Milosevic in his war crimes trial at The Hague. As the veteran United Nations war crimes investigator will discuss in his lecture, the mission was business as usual for him. 
The event is free and open to the public. After the lecture, Dr. Cencich has agreed to sign his new book entitled "The Devil's Garden: A War Crimes Investigator's Story" (books available at the event).
February 4
Challenges and Differences in Humanitarian and Human Rights Work: Case Studies From Colombia and Sahara
Speaker: Dr. Arancha Garcia Del Soto (Fundación Juan March and Fordham University)

January 23
Practical Peacebuilding: The Mali Experience
Speaker: Judy Buelow (U.S. State Department)
March 13
The World Through Arab Eyes
Speaker: Dr. Shibley Telhami, Anwar Sadat Professor for Peace and Development at the University of Maryland
Co-sponsored with World Affairs Council of Greater Hampton Roads
March 18
Screening of Hotel Rwanda (discussion led by Dr. Tina Kempin Reuter)
Co-sponsored with student clubs STAND and the Film Club
March 21
Conference on "The Arab Spring and its Aftermath"