To help fulfill its mission, the Reiff Center offers a variety of educational programs and conferences on human rights and conflict resolution.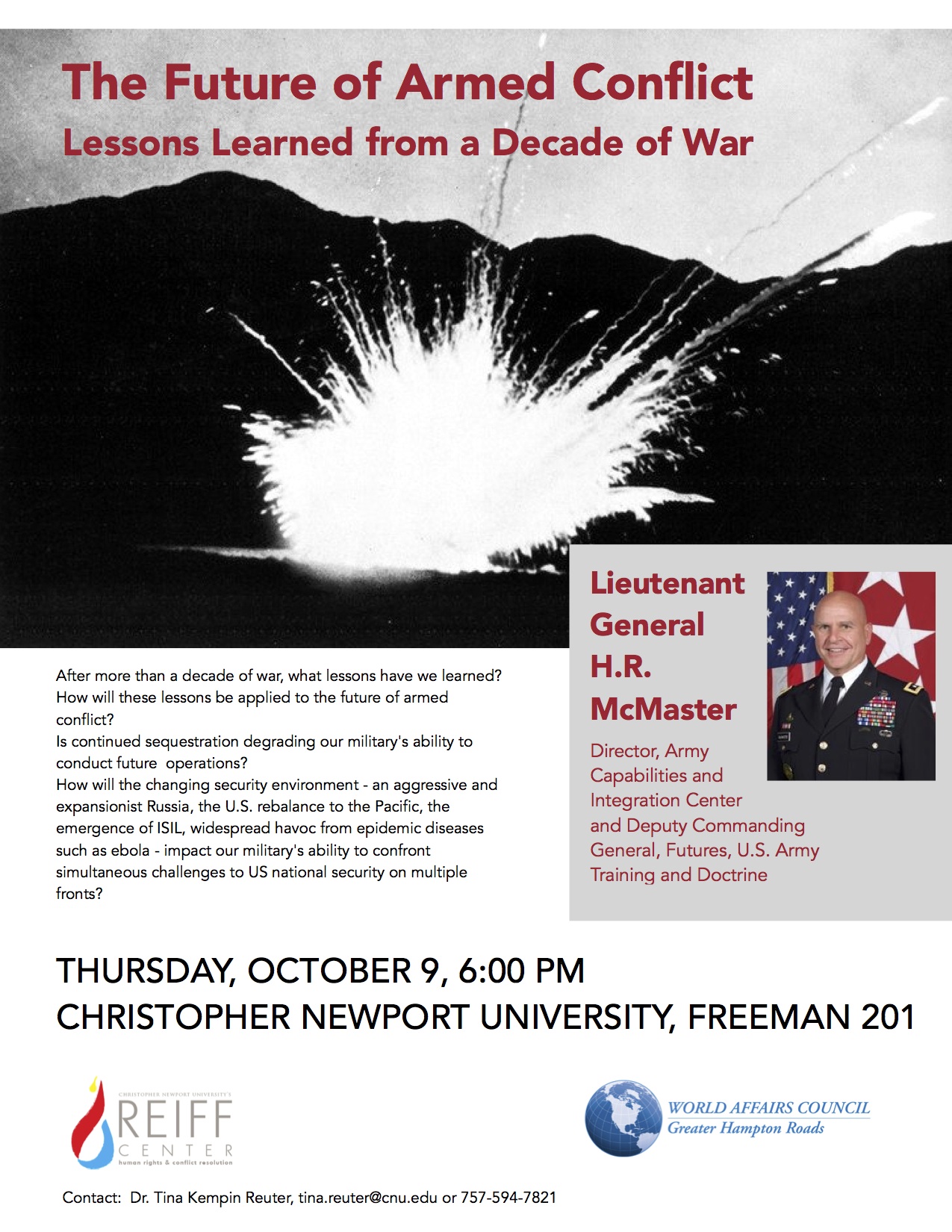 Thursday, October 9

The Future of Armed Conflict: Lessons Learned from a Decade of War

6 p.m., Freeman Center 201

Lieutenant General H.R. McMaster, Director, Army Capabilities and Integration Center and Deputy Commanding General, Futures, U.S. Army Training and Doctrine
After more than a decade of war, what lessons have we learned? How will these lessons be applied to the future of armed conflict? Is continued sequestration degrading our military's ability to conduct future  operations?  How will the changing security environment - an aggressive and expansionist Russia, the U.S. rebalance to the Pacific, the emergence of ISIL, widespread havoc from epidemic diseases such as Ebola - impact our military's ability to confront simultaneous challenges to US national security on multiple fronts?
 The event is free and open to the public. To register for the dinner following the event, please visit http://stores.hrwac.org ($25 World Affairs Council members, $35 non-members) or call the World Affairs Council of Greater Hampton Roads at 757-363-3090. For more information please contact Dr. Tina Kempin Reuter, Director of the Reiff Center and World Affairs Council Board Member, at tina.reuter@cnu.edu or 757-594-7821. 
Co-sponsored with World Affairs Council of Greater Hampton Roads
Thursday, November 6
The Ukraine Crisis: Domestic, Regional, and International Implications


Dr. Tatiana Rizova, CNU


Dr. Gerard Alexander, University of Virginia

David Kramer, President of Freedom House

6:00 pm, CNU McMurran 101
2014-15 Academic Year
October 2
Omar, film viewing and discussion
Dr. Tina Kempin Reuter
September 11
The Israeli-Palestinian conflict after Gaza
Dr. William Quandt, University of Virginia
September 2
Lessons from Ferguson: Race, Law Enforcement, and the Potential Abuse of Power
Panel discussion: Dr. Tina Kempin Reuter, Reiff Center, moderation; Dr. Pete Carlson, Government; Prof. Harry Greenlee, Government; Dr. Patricia Hopkins, English; Dr. Antonia Randolph, Sociology
2013-14 Academic Year
February 4
Challenges and Differences in Humanitarian and Human Rights Work: Case Studies From Colombia and Sahara
Speaker: Dr. Arancha Garcia Del Soto (Fundación Juan March and Fordham University)

January 23
Practical Peacebuilding: The Mali Experience
Speaker: Judy Buelow (U.S. State Department)
March 13
The World Through Arab Eyes
Speaker: Dr. Shibley Telhami, Anwar Sadat Professor for Peace and Development at the University of Maryland
Co-sponsored with World Affairs Council of Greater Hampton Roads
March 18
Screening of Hotel Rwanda (discussion led by Dr. Tina Kempin Reuter)
Co-sponsored with student clubs STAND and the Film Club
March 21
Conference on "The Arab Spring and its Aftermath" 
April 8
Investigating War Crimes: Bringing Demons to Justice
Speaker: Dr. John Cencich, UN War Crimes Investigator and Professor and Director, Center for Criminological & Forensic Sciences, California University of Pennsylvania