To help fulfill its mission, the Reiff Center offers a variety of educational programs and conferences on human rights and conflict resolution.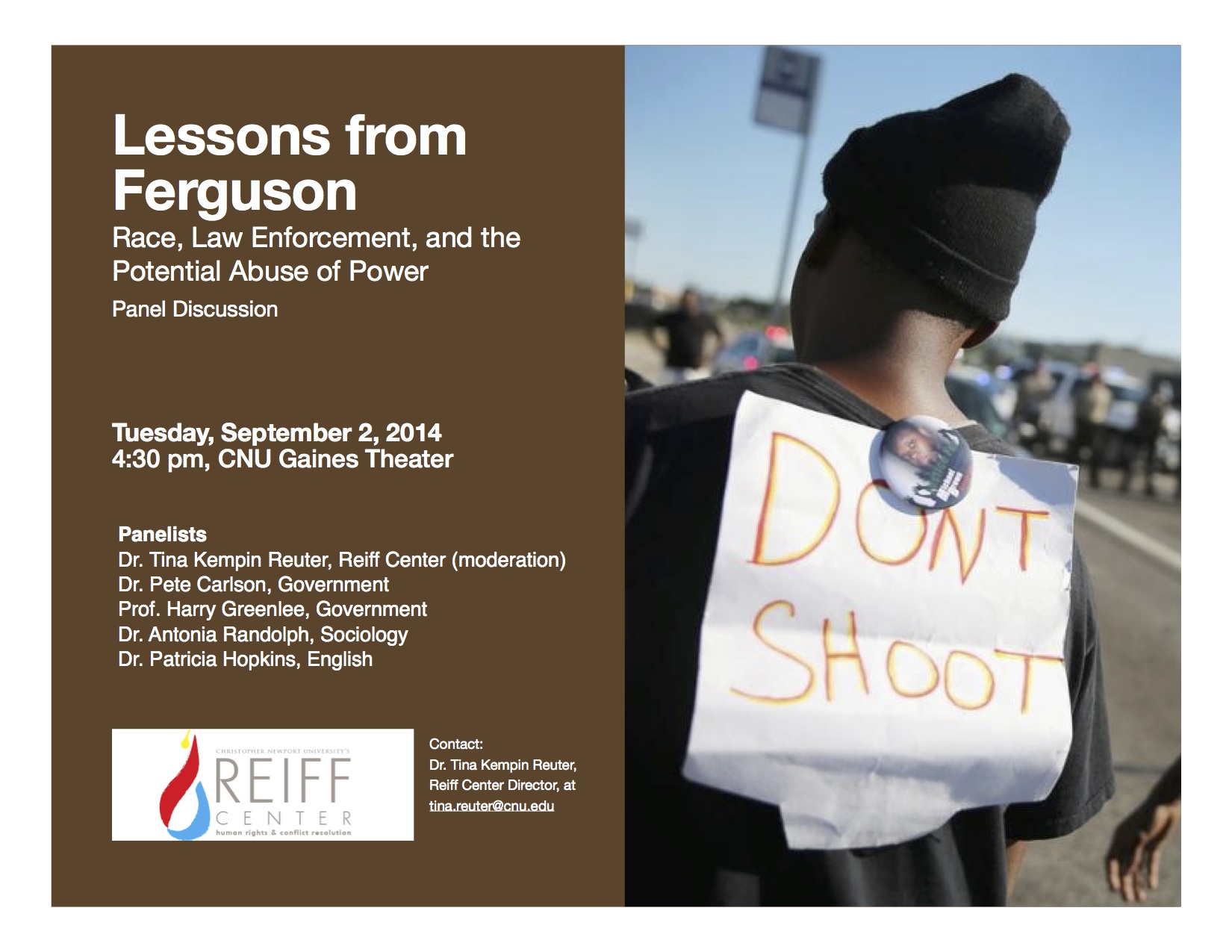 Tuesday, September 2
Lessons from Ferguson: Race, Law Enforcement, and the Potential Abuse of Power
4:30 p.m., CNU Gaines Theater
Panel discussion including Dr. Tina Kempin Reuter, Director of the Reiff Center, Professor Harry Greenlee and Dr. Pete Carlson of the Government Department, Dr. Patricia Hopkins of the English Department and Dr. Antonia Randolph of the Department of Sociology, Social Work and Anthropology. 
The shootings of unarmed black teenager Michael Brown sparked protests and civil disorder in Ferguson, MO. It put questions of discrimination, law enforcement, and race relations at the forefront of the political discussion in America. The speakers will discuss these questions from different perspectives and give insight into an incident that has become the starting point for a more general conversation on racial equality and race relations. 
The event is free and open to the public.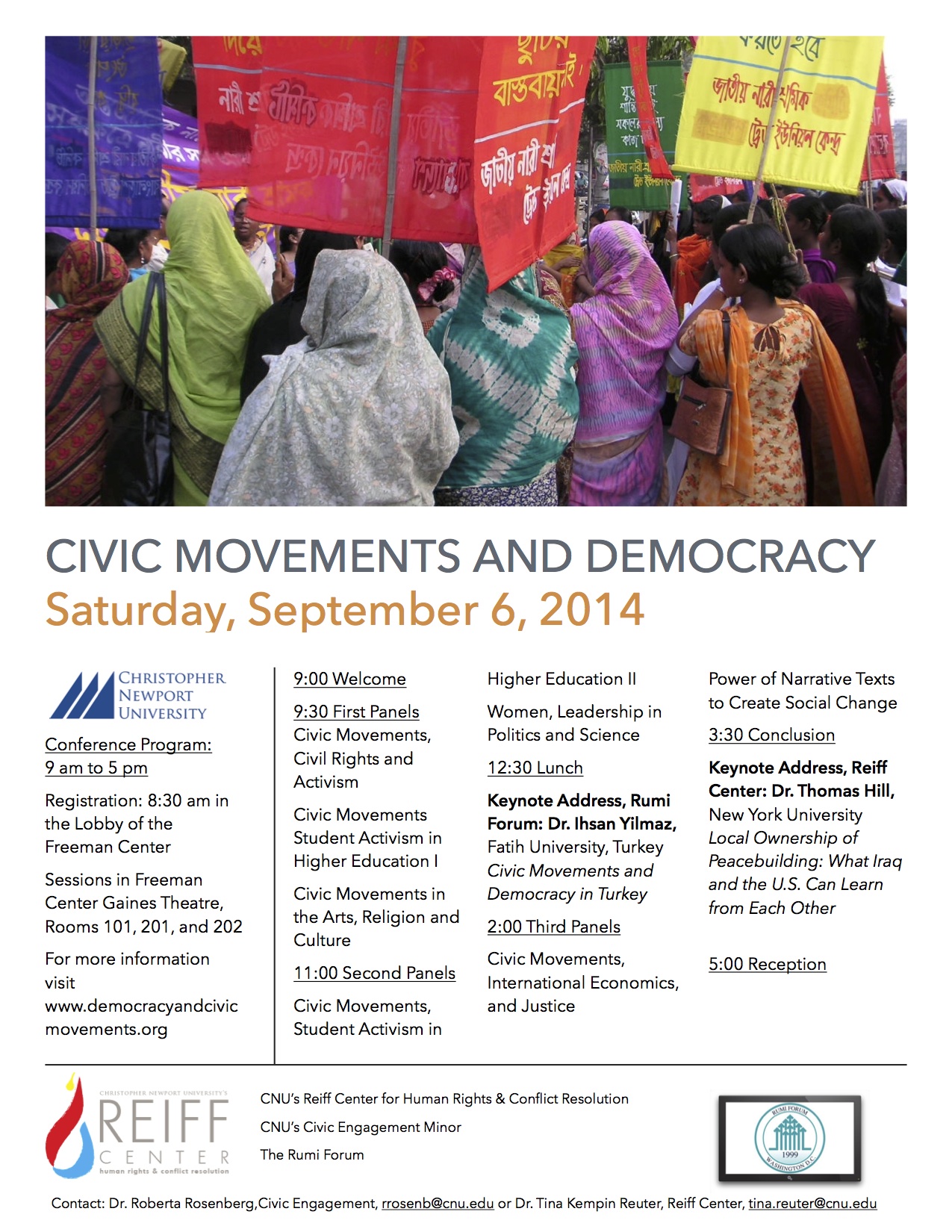 Saturday, September 6
Conference on Civic Movements and Democracy
8:30 am – 6:00 pm, CNU Freeman Centerr
This academic conference on civic movements and democracy seeks to explore the ways that citizens of all countries are able to make their voices heard for the common good.  In fields as diverse as civil rights, the environment, the peace movement, women's struggle for equality or the quest for world peace, active citizens have made an important impact on their societies by uniting together in civic movements for change.
Keynote addresses
Civic Movements and Democracy in Turkey - Dr. Ihsan Yilmaz, Department of Economics and Administrative Sciences, Fatih University, Istanbul, Turkey
Local Ownership of Peacebuilding: What Iraq and the U.S. Can Learn from Each Other - Dr. Thomas Hill, Clinical Assistant Professor, NYU Center for Global Affairs
The event is free and open to the public. If you would like to attend the keynote speakers and the luncheon, please register for the conference. 
Thursday, September 11
The Israeli-Palestinian conflict after Gaza
7:00 pm, CNU McMurran 101
Dr. William Quandt
of the University of Virginia will speak about the recent conflict in Gaza and how its implications on the Israeli-Palestinian conflict and peace process. 
2014-15 Academic Year
2013-14 Academic Year
February 4
Challenges and Differences in Humanitarian and Human Rights Work: Case Studies From Colombia and Sahara
Speaker: Dr. Arancha Garcia Del Soto (Fundación Juan March and Fordham University)

January 23
Practical Peacebuilding: The Mali Experience
Speaker: Judy Buelow (U.S. State Department)
March 13
The World Through Arab Eyes
Speaker: Dr. Shibley Telhami, Anwar Sadat Professor for Peace and Development at the University of Maryland
Co-sponsored with World Affairs Council of Greater Hampton Roads
March 18
Screening of Hotel Rwanda (discussion led by Dr. Tina Kempin Reuter)
Co-sponsored with student clubs STAND and the Film Club
March 21
Conference on "The Arab Spring and its Aftermath" 
April 8
Investigating War Crimes: Bringing Demons to Justice
Speaker: Dr. John Cencich, UN War Crimes Investigator and Professor and Director, Center for Criminological & Forensic Sciences, California University of Pennsylvania