Everybody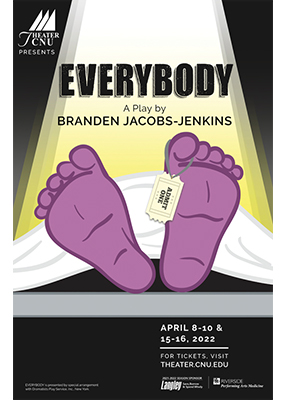 By Branden Jacobs-Jenkins
April 8, 9, 15 and 16 at 7:30 p.m.
April 10 and 16 at 2 p.m.
A wildly raucous and quietly speculative modernization of the historic play Everyman, Branden Jacobs-Jenkins 2018 Pulitzer-winning play revisits the question, "How do we make an account of our life?" Full of humor and wit, Everybody breaks down your expectations and brings the audience in close as the lead character, chosen by lottery each performance, playfully struggles with his/her/their imminent visit with Death.
"Everybody fills the heart in a new and unexpected way." - The New Yorker.
Everybody is presented by special arrangement with Dramatists Play Service, Inc., New York.
Content Notice: The play contains strong language, mature themes, and discussion of death and dying.