Quentin Kidd
Provost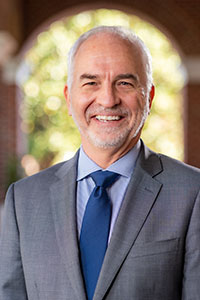 Kidd holds a PhD in political science from Texas Tech University and a MA and BA from the University of Arkansas. He joined the faculty at Christopher Newport in the fall of 1997. Prior to being named provost, he served as dean of the college of social sciences, vice provost for undergraduate education and chair of the political science department. Kidd also founded the Wason Center for Civic Leadership in 2010.
Kidd's teaching and research focuses on American civic and political behavior and politics of the American South. He has received numerous teaching awards, including:
Outstanding Faculty Award from the State Council of Higher Education in Virginia
Christopher Newport Faculty Award for Excellence in Scholarship
Christopher Newport Alumni Society Award for Excellence in Teaching and Mentoring
Professor of the Year award (three times) from the students of Christopher Newport University
Kidd has written or edited five books, including:
The Rational Southerner from Oxford University Press (co-authored with M.V. Hood III and Irwin L. Morris), which was nominated for the V.O. Key Award for outstanding book on Southern politics, the Ralph Bunch Award for best scholarly work exploring the phenomenon of ethnic and cultural pluralism, and the Leon D. Epstein Award for research on political organizations and parties.
Civic Participation in America from Palgrave Macmillan
A Simple Guide to SPSS® for Political Science from Wadsworth (co-authored with Lee Kirkpatrick)
American Government: Readings From Across Society (Longman)
Government and Politics in Virginia: The Old Dominion at the 21st Century (Simon & Schuster)
Additionally, he has authored or co-authored over 30 peer-reviewed studies and book chapters, and funded research reports, including some co-authored with his students.