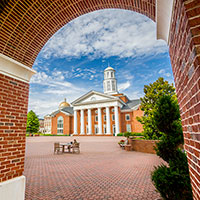 Monday, February 11, 2019
Last week I took a final exam for a class that flew me to Rome, let me explore medieval castles, study the latest fashions,and eat authentic Italian food. The most amazing part is that this course provided me with the necessary credit needed to graduate, all while letting me explore in areas I had not even considered. I learned the beauty within studying cultural anthropology and created memories that will last a lifetime. 
It was a week-long intensive class, which meant that at the end I would receive three credits for my anthropology requirement. I saw the colosseum, the Roman forum, explored monster park, tasted Umbria's finest cuisine and studied a variety of cultural aspects woven into Italy's being. This was such an astounding opportunity because I could physically see the Medieval, Romanesque, Gothic and Renaissance periods all in the buildings around me. Italy has such a deep and rich history, I am so fortunate to be able to study these topics in person as opposed to seeing things from a textbook.