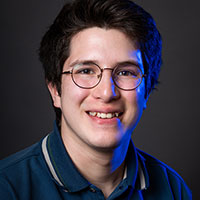 Wednesday, September 25, 2019
I'm so happy to be working on the blog again this year! I've had an amazing time being a part of this and am so excited to continue on. (I'm also excited for our new website design!) I had an amazing summer vacation that I spent getting my first car, visiting friends and even moving to Germany. My dad's work gave him a promotion, which also led to a relocation, so now my parents are an ocean away. Though, thankfully, it's easy to not be lonely when I'm at Christopher Newport.
It's been an extremely busy first month as I jump into all of my classes and extracurriculars. I have two performance-based classes for theater, one lecture style, and three that are discussion-based. The performance classes are definitely my favorite because there's never a dull moment. We're always moving around and trying new things. The lecture course is titled The History of Musical Theater, and I've found it truly interesting thus far. My discussion courses, all for the communication major, are definitely something new for me. I've taken upper-level comm electives before, but none quite like this. The courses are all research based, so it gives us the opportunity to delve into what we find the most interesting. (I'm currently writing about the TV show "Atlanta" for a class.) In addition, I've plunged into President's Leadership Program, the Campus Activities Board, Psi Upsilon, and WCNU Radio for my extracurriculars (all of which I'll write about soon).
There's a lot to look forward to this year and I'm so glad that I chose to a Captain. The past two years have flown by, so I'm hoping to make every day count for the next two. My involvement on campus is definitely taking up a lot of my time, but I'd have it no other way.