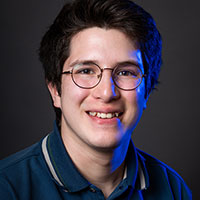 Sunday, September 29, 2019
Paul Trible is the president of Christopher Newport, and, frankly, a living icon. He can be seen walking around campus at any time of day with the rest of the students, holding doors and always free for a conversation. He is one of the most genuine people you'll ever meet and is one of the biggest reasons why Christopher Newport is as successful as it is. One of his flagship programs is PLP or the President's Leadership Program. This organization has a lot of benefits including preferential housing, classes, and much more. In exchange, you take classes towards a leadership minor, do community service, and attend speaker and passport events. The speakers are usually successful people from all different walks of life and fields who come to share their story with Christopher Newport.
To kick off the beginning of the year, Paul Trible himself was our first speaker. He's been president of the university for over 20 years, so it's no surprise that he is an incredible speaker. He did a phenomenal job of balancing humor with conviction. He told us his life story and how his success stems from the kindness of others who took a chance on him. He inspired us to do the same as we continue in our lives, to always take chances and help those in need. At the end, he took questions from the audience which covered a great range of topics that were wildly entertaining.
The PLP program is a huge incentive for coming to Christopher Newport. There isn't anything quite like it at any other university I've heard of. The program grooms students to be productive, hard working leaders in society when they graduate. I feel incredibly grateful to be a part of the program and am so fortunate to learn from as great of a leader as Paul Trible.