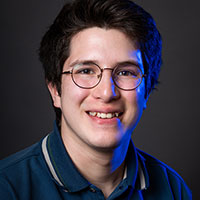 Wednesday, October 2, 2019
Last year, I interviewed with WCNU radio for an administrative eboard position, the treasurer. I am very happy to say that I did receive the position! The station is currently undergoing a lot of changes and the rest of the eboard staff and I are working hard to figure everything out. For me, that means working with the president and figuring out exactly what my duties are and how I can contribute effectively to the program.
Of course, as treasurer, I approve all expenditures and reimbursements, but I also manage the alumni page on facebook to receive donations. We have a lot of plans for the year, but not so much money to enact them. So, as we get over the hump of our first weeks back at Christopher Newport, there's still a lot to be done before we reach our goals for the station. Thankfully, the camaraderie in our organization is very obvious and we've all been having plenty of fun together as we navigate the semi-uncharted waters of establishing ourselves on campus. I say "semi-uncharted" because WCNU radio used to have a more prominent role on campus, but due to a dwindling membership, it faded slightly. Thankfully, there has been a huge resurgence and there are many fresh faces (including myself) who are eager to become a part. We're planning a mixer to recruit even more members in the coming weeks.
As a junior on campus, freshman year does feel like it was so long ago. I'm very proud that I have remained active on campus and also am now receiving leadership roles in the organizations I care about. I truly do feel like I have developed so much in the last two years and I can't wait to see where Christopher Newport and WCNU radio take me.