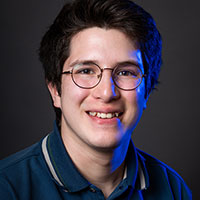 Thursday, October 3, 2019
Signing day is the culmination of the rush process. After a week's worth of events and visiting different fraternities, potential new members (PNMs) receive their bids from different fraternities and then decide which one they want to join. All of the fraternities on campus gather on the Great Lawn and watch as the PNMs cross the Christopher Newport Hall steps and sign their name in a book for the Interpreter Council (IFC). It's a very special day and the crowd is extremely excitable which makes for an unforgettable experience.
My fraternity, Psi Upsilon, took 12 new members who were selected for their qualities in leadership and lifelong friendship. As is tradition for us, after all of the PNMs have signed, we head to Plaza Azteca with our new members. This is a tradition that started many years ago and it's become a staple of signing day. It's always exciting to welcome in the new generation of Psi Upsilon and today was no different. I had already met most of the class during rush week, but there were a few faces I hadn't and it was nice meeting all of them at Plaza.
I've been looking forward to signing day all semester and can definitely say it lived up to my expectations. Events such as these do bring the Greek campus closer together because we have the opportunity to celebrate with and for one another as the PNMs make their choices. I'm sure all of our new members will contribute greatly to our chapter and become outstanding brothers and I'm also sure the same is true for the rest of the new members of different fraternities.