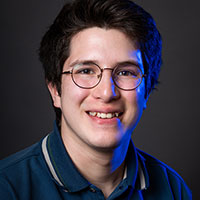 My CAB (campus activities board) committee just had our first event of the year. It involved nuggets and Bob Ross. If that's a confusing combination to you, well, you wouldn't be the first who felt that way. The idea was pitched last semester and was originally laughed off, but the more we thought about it, the more we realized how unique and awesome of an idea it was.
We enlisted the help of our on-campus Chick-fil-A to cater the event and ended up purchasing something like 500 chicken nuggets with a ridiculous amount of sauce packets. In addition, we hired an artist to lead the class in recreating a Bob Ross-like painting. There were hundreds of people who came to the event and all seemed to have a great time. Our team worked hard to set up the auxiliary gym with decorations, adding hilarious Bob Ross wigs and other great props scattered around. We included a photo booth and even a costume contest for whoever was dressed most like Bob Ross. There were so many awkward laughs at the theme from everyone who walked in. It was one of the funniest things I'd ever seen.
I can safely say we are likely the first college campus ever to have an event called "Nugs and Sauce with Bob Ross" and that's why Christopher Newport can be so special. It's a place for new and funny ideas to be explored with a whole community behind you, supporting every step. Being a member of CAB has afforded me the privilege to help bring these ideas to life for my fellow captains and I am so grateful I can do that. I just hope we have the same event next year!