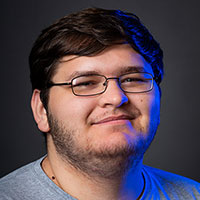 Saturday, October 12, 2019
Anyone who knows me knows that I absolutely love residence life. This is why last year, when there was a staff shortage, I hastily accepted the position as an RA with only six weeks left in the year. Yep, that's right. I moved to a different building and changed the course of my semester with only six weeks left! I was so glad that I did, because I loved the experience that I got from working as an RA with a first-year population. 
With that, I definitely was ready to move on to my next adventure, here in James River Hall. I love this building, and I love working with sophomores and juniors. The best part about this year is that I get to start off working in James River, and I don't have to leave until I'm done. So I finally get to stay in one spot for the whole year. It's awesome! I love my residents, my staff, my single room and bathroom and everything about my job!
I look forward to all the personal growth ahead of me this year, and I am so thankful for the opportunities for growth that I have been presented with thus far. This year, I hope to work on balancing my time a bit better, and making the most out of everything I experience. Life as an RA can be tough, being on-call for emergency response, having to have difficult conversations with people, and being a resource for your residents, but it's those exact hard parts of the job that make it so fulfilling. I am already able to see the impact that I am having on my residents, and I'm really starting to think this is what I am meant to do.