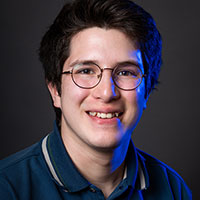 Learning About Weezer, Youtube and Donald Glover's Atlanta
by Travis Rocha
Wednesday, November 20, 2019
When I came to Christopher Newport, I decided to be a communications major, but I honestly had no idea what the department actually looked like. Now that I'm almost done with my major, I've taken just about every kind of class in the field and was really surprised with how we do research.
We do small qualitative studies on the school regarding various statistics, but we also do a lot of research on media and literature analysis. Especially in the upper-level electives, there's a lot of freedom in what we choose to research which makes learning fun.
The research-based classes allow the opportunity for us to apply all the theories we've learned in the entry level classes. I've done papers on Weezer, Donald Glover's Atlanta, and I'm currently working on a group project about the impact of YouTube, which has been a lot of fun to dive into. It does involve a lot of time at the computer and reading journal articles, but when the material is interesting the time flies by.
It's also great to interview fellow students and find great stories to support or disprove a claim that we're looking into. I was honestly expecting a lot of the research to be the professors carefully guiding us, but that definitely isn't the case. They're always there as a resource, but we have a lot of freedom to investigate our topics however we see fit.
I feel like by junior year, most communication students have the fundamentals locked down, but it's great to be able to put that to the test with concrete research. My classes this semester have been really rewarding because I'm able to do research about things I care about and work with my peers who have similar interests.
The communication field is extremely dynamic and Christopher Newport is right on the cutting-edge, with every class building on the last as new information and perspectives come to fruition.