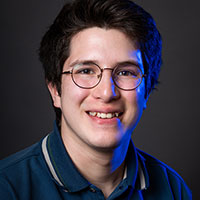 Monday, November 11, 2019
I'm sure I've written on this subject before, but I wanted to go over it again now that I've reached the halfway point of my junior year. When I first toured Christopher Newport, my parents absolutely loved it. We checked out a few other colleges, but in their eyes, nothing came close to Christopher Newport. In truth, I wasn't completely sold on my first impression. The campus was beautiful, the community was welcoming, the student ambassadors were hilarious, and the academic life itself seemed top-tier. The reason I was on the fence is because I wasn't sure how I'd fit in.
I'd originally always envisioned myself at a smaller campus, but once I started touring, I thought that maybe I'd benefit from attending a large institution wherein I could meet lots of different people and seek out new opportunities. In the end, what made me choose Christopher Newport was the personal relationships I began making with students who attended here. I visited a few times and every person I met with was so happy and proud to be a Captain. There's a sense of campus pride that is undeniable and I couldn't find it anywhere else. My concerns about opportunities were also quickly shut down as I realized Christopher Newport is incredible at networking. Their scope is extremely far-reaching. Anything you want to do, join or be here, you absolutely can.
There are so many great reasons to attend Christopher Newport, but if you're on the fence, I highly encourage you to check out the programs wherein you can meet Captains and learn what we're all about here. Christopher Newport offers a wide range of events for prospective students and I highly encourage you to check them out if you're interested because, for me, they made all the difference. We're a community that cares about one another and it doesn't take much for someone to realize that once you meet us.