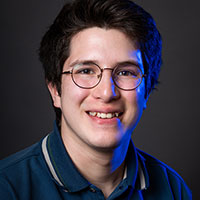 Tuesday, February 18, 2020
Study Abroad, Student Life, Internship
Last semester, admittedly, I took it pretty easy. Not in a bad way, I just took time to relax and enjoy my time in college more so than I previously have. However, with graduation looming next year, it's definitely time to kick it into high gear.
Find an internship: Oddly, while seemingly daunting, this is probably the easiest goal on my list. I've written about the Center for Career Planning (CCP) plenty of times, but they genuinely are so easy to work with. Tons of my friends have actually worked for them and they're great help themselves when it comes to searching for internships/jobs. A larger goal of mine is to work in New York City after college, so I want to visit the CCP and discover what options there are for Captains in the city. I'm particularly eyeing internship opportunities, but it'd also be nice to know, in general, what companies have history hiring Christopher Newport graduates. There is a huge Christopher Newport alumni base, so I know they'll have some great options for me, I just have to schedule an appointment and make the visit!
Investigate Study Abroad Options: I have the opportunity to graduate early in the fall of 2020 if I push myself this semester and take a few summer classes. Though, lately I think I'd rather have a light course load and instead take a semester or "maymester" abroad. There's a study abroad fair coming up in a few weeks that I've already marked on my calendar. I'm particularly interested in Australia, somewhere I've never been, but being closer to my parents in Germany would be nice as well. With that said though, I'm open to anything so I'm looking forward to attending the fair and finding the best program for me!
Maintain Leadership Positions: I've definitely extended myself about as far as I can with leadership roles in Psi Upsilon, WCNU Radio, the blog and (maybe if I'm lucky) CAB. However, sometimes doing too much can mean that you're not doing anything right. I want to ensure I'm giving my best work to each of my commitments because I love every one so much in its own way. Each has been such an important part of my college life and I want to make sure I'm giving back as best as I can. So, I'm creating a more clear schedule to keep track of my organizations and ensure I'm working hard for each every week. 
There are plenty more goals I have in mind for the semester, but, for now, I've decided to fully commit myself to these three. After January, I'll check in with myself and see how I'm doing and what more I'd like to add onto this semester. Junior year has been my favorite year of college thus far so I'm hoping this semester is just as fun as the last!