Read time:
---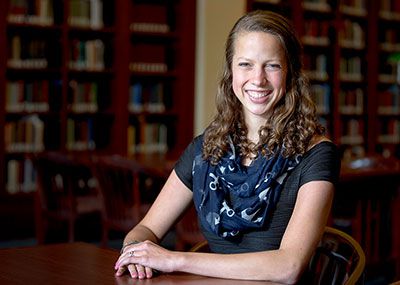 Applied physics major Brook Byrd has been awarded the Barry Goldwater Scholarship, widely considered the most prestigious award bestowed on undergraduates studying the sciences and engineering. Byrd is the first student in the history of Christopher Newport to be awarded this distinction. A rising senior, she maintains a perfect 4.0 GPA, while also participating in the University's President's Leadership Program, conducting research at Jefferson Lab and playing on the women's tennis team.
"We are extremely proud of Brook's achievements," notes Dr. Anton Riedl, Chair of the Department of Physics, Computer Science and Engineering." "Not only is she an excellent student, but also an aspiring scientist. During her internship at Jefferson Lab, she collaborated with graduate students and PhDs from all over the world, and in spite of her young age was able to establish herself as an accomplished researcher. We are absolutely convinced that she will have a very successful career in the sciences and academia."

"I hope that I am only the first of many Goldwater Scholars at Christopher Newport," says Brook. "We aren't just producing intelligent scholars, we are producing scholars who want to make a difference in the world. I'm so proud to be a Captain! I hope to contribute to the modeling of fundamental elements as well as assist in direct medical physics applications in the coming age. The Barry Goldwater Scholarship will help me pursue a PhD in physics," she notes. "With this, I hope to teach at the college level and perform research in the medical imaging field."

Byrd will spend the early part of this summer at Jefferson Lab conducting research on the physics of medical imaging, and will later travel to Cambridge Mass., where she has been awarded a highly competitive Research Experience for Undergraduates internship at Harvard University.

The Barry Goldwater Scholarship and Excellence in Education Program was established by Congress in 1986 to honor Senator Barry Goldwater, who served his country for 56 years as a soldier and statesman, including 30 years of service in the U.S. Senate. The purpose of the Foundation is to provide a continuing source of highly qualified scientists, mathematicians, and engineers by awarding scholarships to college students who intend to pursue research careers in these fields. For the complete list of 2016 recipients, visit goldwater.scholarsapply.org.
---