Read time:
---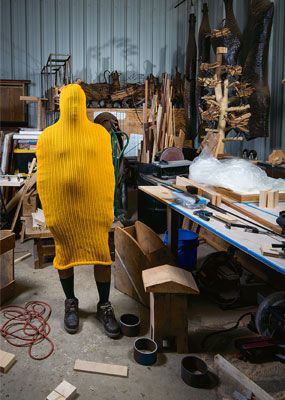 Studio art lecturer Kristin Skees' large-scale photography portrait of artist Greg Henry is the winner of this year's Best-in-Show award at the Virginia Artists Juried Exhibition at the Charles H. Taylor Arts Center in Hampton, Virginia.
The exhibition, one of the largest of its kind in Virginia, showcases over 100 works from artists across the state. Nearly $7,000 in prize money is at stake for the winners in drawing, printmaking, painting, photography, crafts, watercolor, mixed media, and sculpture. For Best-in-Show, Skees takes home $1,500.
"It's always an honor to have my work recognized by curators and fellow professionals in my field, like juror Jeffrey Allison from the Virginia Museum of Fine Arts," says Skees. "This award is special because it comes with the opportunity to exhibit a solo show. And I'm excited to use the award money to create a new body of work to show at next year's exhibition."
Kristin Skees teaches digital photography and video art. She earned her MFA from the University of Arizona. More about her artwork is available at kristin.skees.net.
---