Read time:
---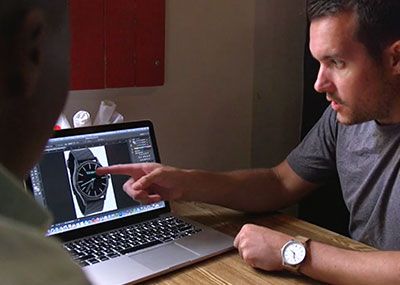 Not only are small businesses breaking new ground in today's business world, they also have a new ally: crowdfunding websites. These sites, such as Kickstarter and GoFundMe, have allowed anyone with a marketable idea to have the online masses chip in to fund their dream. It's the ultimate do-it-yourself vision that bridges the gap between accomplished businesses and amateur entrepreneurs.
"Crowdfunding is a great way to test your branding," says Jeremy Wells '06. "With investors, you might dump money into something that isn't the right path you should be going into. With crowdfunding you can put your brand, your strategy and your product in front of a target market." Although the concept seems simple, Wells and Eric Genazia '10 attest to the intricate detail that goes into building a startup like Vierra Watches from scratch. "It's been a long process," says Genazia. "It takes a lot of work to create a design, send examples to manufacturers and judge the craftsmanship. Meanwhile we had to identify a gap in the market, correlate that gap with our product design and familiarize ourselves with crowdfunding itself."
The preparation paid off, as their goal of $15,000 was 155 percent funded with a final tally of $27,000 raised through crowdfunding – enough to begin manufacture of the watches. Once the campaign ended in December, the two worked to identify each order and send it to the manufacturer. And now that they're on their way to becoming the business they always dreamed of, both continue to reflect on what led them to Christopher Newport and started it all.
"We recognized each other's shared drive to become an entrepreneur – and we're both big watch enthusiasts," Genazia says. The business school had a major impact on both of them as well. "The Small Business Institute was great. It was difficult, but my thought process and writing abilities were significantly enhanced through my participation." He also benefited from Dr. Robert Hasbrouck who taught applied business statistics and calls Genazia "very focused and an outstanding scholar."
As for Wells, he found valuable mentorship by working closely with Dr. Stephanie Bardwell, whose teaching in ethics and small business, as well as civic engagement and social entrepreneurship, were critical to his success. "Professor Bardwell's class changed my life. It made me think I wanted to own a company at some point. She had a high standard and made me prepare better and work harder," he says.
Both also received unexpected preparation to launch a company through their experience in Christopher Newport's vibrant Greek life. "Our fraternity was run like a company," says Wells. "It had a president, vice president, meetings, objectives and goals to achieve. It gave me a level of confidence, and people see that from you, which helps in every aspect."
Soon it became apparent that the skills of both could be honed and put to use toward their goal. "Eric has the strength and a good vision for where our products should take us, as well as which function and features would be good on the products," Wells explains. Meanwhile, "Jeremy is a Web developer, so he dominates tech design. We wear a lot of different hats and are partnered 50–50," Genazia says.
A fascinating component behind the duo's thought process is the blending of original ideas and inspiration from high-profile companies like Apple. "We're going for a very sleek, clean look," Genazia explains. "We took bits and pieces from each other's ideas and made our ultimate design: a watch that's durable and stylish."
Although they've tasted success, neither is content to rest on his laurels just yet. "It's time to grow this to the point where it's our full-time job," Wells says.
---