Read time:
---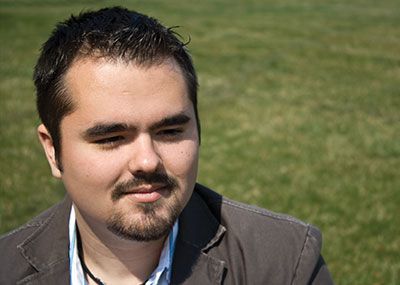 Dr. Chris Lamb '11 and Steven Brindle '10 go way back. Both were music majors at the same time, and both played off each other as they developed as music professionals: Lamb composing and Brindle conducting. The latter conducted several of Lamb's works during their student days, and the Hampton Roads Philharmonic premiered one of Lamb's latest works, "Shattered Glass," in March 2016.
Lamb's compositions tend to be programmatic – inspired by something outside of music, such as a story or work of art, and vary stylistically. There's chamber music, opera and electronic pieces in fixed media, created by combining existing audio recordings and other sounds. He also draws from his memories and impressions of different places, which evoke certain sounds and approaches. "I moved around a lot growing up, and it helped introduce me to many different cultures and customs," Lamb says. "I spent two years in Korea, and the music is beautiful and one of my favorites. I researched Korean folk music during my time at Christopher Newport. The sounds and expressivity of the style have definitely influenced my own music." Lamb recently completed the doctor of music program at Arizona State University and currently teaches music at Central Arizona College while continuing to work on his own compositions.
Like Brindle, he was introduced to classical music at a young age. He started playing in fourth grade on his grandmother's old piano. "It was pretty immediate for me," says Lamb. "I loved playing and performing. The next year I started playing the trombone, and the rest is history."
Lamb gradually came to be more interested in writing and expressing his musical ideas in more complex ways, using more sounds and instruments – and in how others interpreted his ideas. "I occasionally perform my own music, but one of my favorite parts of the composition process is hearing how other musicians translate it. I like to see others bring their own experiences and taste to the notes I've written," he says.
Lamb's primary mentor at Christopher Newport was composition and theory professor Dr. Christopher Cook, who helped him develop his compositional style and fostered his musical growth. "Dr. Cook was a huge supporter and provided composition instruction all four years of college," Lamb says. "He also helped me plan my graduate path."
"Chris was a student leader and pleasure to teach," says Cook. "His growth as a composer was tremendous while on campus, culminating in the production of his opera 'David and Glass' during his senior year. I am sure his recent successes are only the beginnings of a long and fruitful career." Learn more about Chris Lamb at chrislambmusic.com.
---