Read time:
---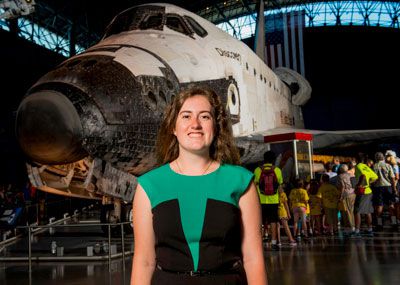 At the Smithsonian's National Air and Space Museum, home to the world's largest collection of aviation and space artifacts, one can see everything from the Wright Brothers' first-flight airplane to the original "Star Trek" Enterprise studio model. It's the most visited museum in the country, and one that history and classical studies major Catarina Izzi spent an entire summer at as a paid digital archive intern.
On a typical day Izzi combed through old files in the exhibit design department, then organized, scanned and cataloged them. Her work will enable exhibit designers to reference past "scripts" – placards, photos and other materials that accompany exhibits – when developing future exhibitions. The scripts seem innocuous enough, but they actually entail extensive work from a host of people, and though brief, must convey enough information about an exhibit so a visitor can understand its context and significance.
For Izzi, who hopes this valuable experience beyond the classroom is but the first step in a career as a museum archivist, the job was a perfect fit, and allowed her to apply what she's learned in class, both in the humanities, as well as in several computer science courses. The mix of liberal arts and sciences helps her gain the knowledge she needs to understand and interpret what she sees, but also the practical skills to be able to create digital archives that will preserve materials for future generations. "There were so many amazing things there for me to discover and learn about," Izzi says.
"I worked with label scripts, photos and articles written about exhibits, technical drawings – there was a lot of stuff," says Izzi. The project is crucial because the materials often pre-date any digital means of cataloging them, and the museum often doesn't even know what it has. "My goal was to take things that have been stored for years and years, and make them available for people to access," she says. "And not just here, but scientists everywhere, as well as staff at other museums."
Izzi credits the mentorship and support of History Professor Dr. Brian Puaca and as instrumental in her being hired at the Air and Space Museum. "He was super supportive the whole way," she says. "I was bouncing up and down in the office when I heard I got the internship."
"This internship is very competitive, and it's paid, which is rare," says Puaca. "It will allow her to combine her passion for history with her skills in digitizing archival materials and making them searchable and available for use. She makes the past more accessible – and more engaging – to those who visit the museum."
Though her work at the Air and Space Museum has ended, Izzi will continue learning about museums through a summer study abroad trip to Rome with CNU faculty, where she'll explore how exhibits at indoor and outdoor museums there are designed and presented. "They have so much architecture and such on display, there," Izzi says. "It's going to be amazing."
---