Read time:
---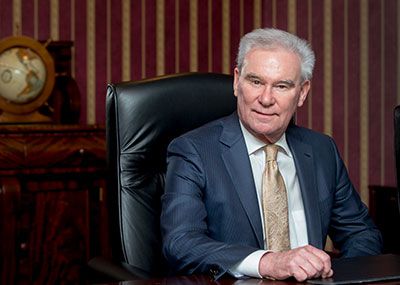 Never forget your roots. For Robert Green Jr. '74, that sentiment has defined a professional journey that began in college.
"Christopher Newport embraced me and gave me an opportunity to go to school," he says. Green earned a bachelor's degree in business administration while simultaneously attending the Newport News Shipbuilding and Dry Dock Company Apprentice School.
"Balancing the two wasn't that difficult because I was driven," he explains. "My family begged me not to do it, but I had a plan; I always wanted to try a business for myself." He is now CEO of Caliper Inc., a multimillion-dollar global organization that supports companies through human capital solutions.
The Virginia Beach company's work includes temporary staffing, temp-to-hire and direct hire services, executive searches, payroll, vendor on-premise services, and single-source management/managed staffing. Since its inception, Caliper has hired over 300,000 contractors supporting 400 clients in the power, automotive, aircraft, government and information technology industries, among others. In addition, Caliper's Power Services Division specializes in both emergency and outage support and maintenance repair service.
Green's dedication to his studies quickly paid off through positions with Manpower and a similar company in Richmond. He formed Caliper Inc. in 1983, and throughout his career he has embraced Christopher Newport's ideal of leading a life of significance, staying involved in the local community. Green has been a sponsor for Cycle for Life, which supports rare cancer research. He also served on the executive board of the Neptune Festival for 10 years, along with being a member or former director of several area groups: Virginia Beach Chamber of Commerce, Gateway Bank and Trust, Hampton Roads Bank Shares, PingPongforPoverty, and PiN Ministries, a homeless outreach in the Virginia Beach area, to name a few.
Green's wife, Shelley, is director of information technology at Caliper Inc. The couple has two grown children: daughter Channing, a forensic specialist with the Virginia Beach Police Department, and son Rob, who serves as president of Caliper International.
Green entered college with big dreams for his life, and he has more than achieved his goals. He notes, "Life to me is all about risk. I've taken every risk you can take, but more risk means more reward. Step out and take it."
And throughout the years that have passed since his college days, Green regularly acknowledges Christopher Newport's role in setting him on the path to success. "Christopher Newport was great, and the people and professors were exceptional. This college gave me the confidence to make some of the decisions I've made that wouldn't have been easy to make ordinarily," he says. "This school is a crown jewel."
---