Read time:
---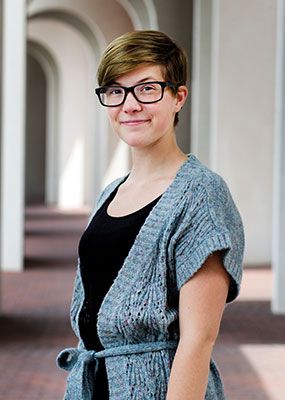 As an art history major, it is important to have experience working or interning in the field before graduating. As I was considering options, one of my professors, Dr. Liz Moran, asked me if I was interested in being a research assistant with the Summer Scholars Program.
Summer Scholars is structured in a way that sets it apart from research programs at other schools. Most colleges reserve opportunities like this for PhD students, but everyone in the Summer Scholars Program is an undergraduate. Because the program is small and composed of motivated students, I was able to deeply investigate theories concerning my topic, work closely with faculty and discuss research with the other summer scholars. Presenting work to peers and mentors and getting their feedback was also fantastic preparation for our campus research conferences like Paideia or the Hoaglund Conference.
The program lasts about two months and allows students to work closely with faculty on their research. Being a summer scholar was an amazing opportunity and a highly beneficial experience that allowed me to work and study within my field – and get paid! My work centered around European pictorial manuscripts documenting Mesoamerica (part of Central America) during the colonial period. I compiled notes on manuscripts, collected high-definition images and delved into scholarly articles related to my topic. Our purpose was to examine depictions of indigenous people to develop a deeper understanding of how European colonizers perceived the native Mesoamericans. The major finding was that pictorial manuscripts compiled by non-Spanish Europeans portrayed the Spaniards as extremely violent, to a greater extent than they actually were. These manuscripts were published and circulated around Europe strategically, increasing disdain for Spain.
Twenty-six students representing a variety of majors participated in the Summer Scholars Program with me last year. We met in small groups once a week to discuss our work with one another. At every meeting, one of us would present and discuss our topic, objectives and research method to the group. Being able to meet with my fellow research assistants was a great aspect of the program. I learned a lot from my peers about fields I knew little about and, conversely, got to share my own research and appreciation for art history. I was even able to participate as a test subject for one of my group member's psychology research, which is something I had never done before.
Doing serious academic research definitely helped me with writing papers for classes and gave me confidence in my ability to succeed as a graduate student, should I decide to go that route. The Summer Scholars Program not only serves as a reflection of the faculty's commitment to preparing students for the future but also exemplifies the unshakeable drive and passion my fellow students and I pride ourselves in.
---