Read time:
---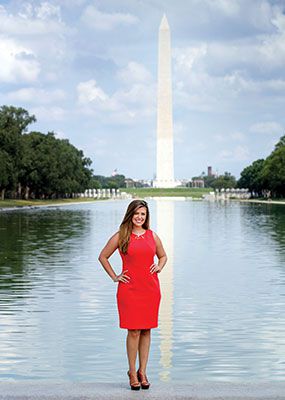 Late this summer Carolina Hurley ('14) began serving as director of television for the Republican National Committee (RNC). In this role she pitches RNC staff, surrogates and content to TV producers, reporters and anchors to garner political coverage; builds and maintains relationships between TV press and the RNC press shop; writes talking points; and conducts in-person briefings for RNC staff and surrogates prior to interviews.
It's a role she's well prepared for, having just served as national communications director for the College National Republican Committee (CNRC) where she promoted her party's message and brand while engaging young voters in the political process. Founded in 1892, the CNRC holds the distinction of being the nation's oldest and largest youth political organization, enjoying a presence on campuses throughout the U.S.
"According to our research, a majority of millennials support our policies and foundational principles yet don't connect them to the Republican Party," Hurley says. "Through social media, our national field program and our college Republicans on the ground, the CNRC tries to clear up any and all misconceptions about the GOP and explain how our party is made to work for them."
Hurley double-majored in political science and communication studies at Christopher Newport – fields that have served her well. Active on campus, she was a member of Gamma Phi Beta sorority and participated in both the College Republicans and the Wason Center for Public Policy, for which she served as a nonpartisan survey research interviewer.
"The minute I stepped on campus I knew it was the place for me," she recalls. "President Trible spoke to our tour group and assured us he had an open-door policy with students. To this day, I have a great mentoring relationship with him and his staff."
Several Christopher Newport professors have been instrumental in Hurley's academic and post-graduate achievements – individuals like Drs. Quentin Kidd and Pete Carlson in the Government Department, and Drs. Linda Baughman and Jennifer Billion in the Communication Department. "Each one took the time to get to know me, mentor me, and went above and beyond to make sure I was setting myself up for a prosperous future after graduation," she says. "Christopher Newport is a place unlike any other that constantly encouraged me to be the best I could be."
Notes Kidd, a vice provost who also directs the Wason Center, "Carolina is just one of those pleasant people you enjoy being around. As a student, she was serious and focused and worked hard. She seemed to be really engaged across campus, and I'm not surprised at all by her post-college successes."
Shortly after commencement, Hurley took a job as press assistant for California Congressman Jeff Denham. After a few months in that role she accepted a full-time executive assistant position with the CNRC and was then promoted to national communications director last September.
Growing up in Northern Virginia, she gained exposure to politics at an early age due to her family's proximity to the nation's capital – and her family's consumption of nightly TV news. Raised by a conservative-leaning father and an immigrant mother from South America, she says the political dynamics between her extended families often clashed. "It was only after understanding both sides of hot-button issues my families discussed that I was able to form my own opinion," she states. "For better or worse, I've also always been a pretty outspoken person when it comes to my beliefs. Those personality traits are more welcomed in a political arena than anywhere else."
Over time, Hurley learned how to foster and maintain relationships with diverse people, including those with opposing views. This has proved essential as she uses her voice to inspire others – especially young Americans who believe their vote doesn't matter or that registering to vote is a burden.
She explains, "The questions I pose to them are: Do you want a job after graduation? Do you want some relief from your student debt? What is it that you want to change about the current political environment?" And as she engages young people, Hurley fully believes they will provide a decisive vote in 2016, just as they did in 2008 and 2012. "If there are things you want to see changed, you have to make your voice heard. It's as simple as that: Go vote."
In retrospect, if someone had told Hurley as a college freshman that she'd land her dream job by age 23, she wouldn't have believed it. Yet her dream came true, and her future is one of unlimited possibilities.
"It's difficult to say where I'll be in the next few years and even hard to say specifically what I'd like to be doing," she notes. "What I can tell you is that I want to keep doing things I love, representing policies I believe in and, most importantly, having fun while doing it."
---