Read time:
---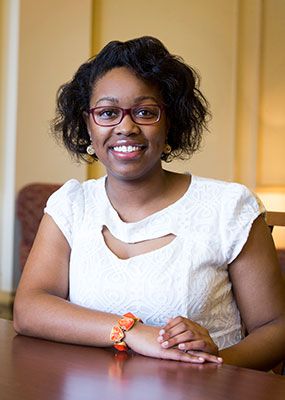 Ever since I was little, I have been serving others. An outreach program called Reaching Our City Kids here in Newport News shaped my views on service. My mother was director of the program, and my brother, sister and I worked by her side. It was truly a family effort. We went into predominantly low-income neighborhoods as mentors to youths aged 3–18. We held weekly gatherings geared toward character-building and spiritual principles, interactive games, home visits, and public recognition for achievements. The program allowed me to embrace diversity in my community and see people as their authentic selves.
This involvement made me passionate for a connection with my community, and as high school came to a close, I did not want that feeling to end just because I was going to college. While many students were heading off to school far away, I understood that in order to create change I should start at home, and that is exactly what I did. I enrolled at Christopher Newport and joined the Bonner Service Scholar Program.
My fellow Bonner Scholars and I have six common commitments: community-building, social justice, diversity, international perspective, civic engagement and spiritual exploration. These commitments allow us to experience "volunteering" on a new level. I wanted to use my love for service and people to develop new and innovative ways to explain challenging material to students. Everyone is different, and no one should be left out just because something is difficult. I have had the opportunity to do just that at Woodside High School (my alma mater!). I work in the math department focusing on in-class assistance, after-school tutoring and building genuine relationships with students.
As a Bonner Scholar I have also had the privilege of spreading my wings and gaining new cultural perspectives by traveling to Tennessee and Ecuador. In Tennessee I got to see community-building in action in another state. I met some amazing people who contribute in different ways to help the people of Chattanooga strive to create better lives for themselves. My journey to Ecuador allowed me to gain an international perspective on economic and social issues – an eye-opening experience. For a week I had the privilege to be one with Ecuadorian culture, absorbing the knowledge of many influential people.
Service is an important part of who I am today, and I am proud to be a Bonner Service Scholar. The program has equipped me with a better understanding of diversity and service, and taught me valuable organizational and conflict-resolution skills, all of which I have been able to apply elsewhere on campus, both as a student and as a resident assistant in James River Hall. I am confident all of these experiences will help me succeed as I work toward my dream of becoming a high school math teacher.
---