Read time:
---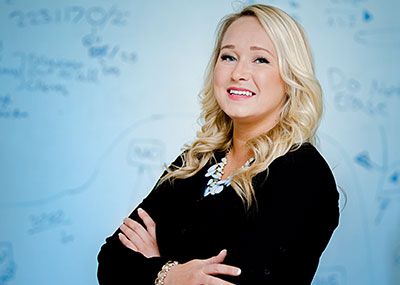 It's a long way from the farmland of Fauquier County, Virginia, to metro Los Angeles, but it's the road Mandy Rogers '10 has taken since her days growing up in that bucolic setting west of Washington, D.C.
"My parents had chickens and honeybees, so I wasn't looking for a big city or big campus," she recalls of her college search. "I always really liked the water, and I wanted to be close to the beach, and I knew this area had a lot of great technology companies as well, so Christopher Newport was a good fit."
Rogers was recently chosen as a Northrop Grumman Systems Engineering Associate, a selective two-year program designed for emerging leaders in the company to accelerate career growth. Participants complete six-month rotations in different locations working on critical systems, including defense, aerospace and other technologies. The program is highly competitive and reserved for top talent – innovators willing to work on different missions, with different challenges. "They really want us to be forced out of our comfort zone," Rogers says.
And though this latest advancement came as no surprise to Rogers, she wasn't always sure a high-tech path was the right one for her.
"I kind of stumbled upon computer science in high school," she says. "My grandfather convinced me to try it. It's kind of a funny story," she continues. "I was trying to get into a fashion marketing class because it included a field trip to Tysons Corner Center to go to high-end designer stores, and I got stuck in a computer math elective instead because the other class was full."
So Rogers, the reluctant scientist, tried several times to transfer out of the class, but the teacher recognized her talent and persuaded her to stay. "I actually really enjoyed it," says Rogers. "It was fascinating, being able to develop software – and I was really good at it!" In a town where most of her peers were involved with Future Farmers of America, doing things like programming in visual basic were far outside the norm. "I lucked out," she says. "I don't know what I'd be doing if I hadn't happened upon it."
Rogers is quick to credit the mentors she had in high school and at Christopher Newport with paving the way for her success as an engineer. The encouragement included making sure she understood the significance of becoming an engineer in a field dominated by men. "People told me I was really good at this and that there weren't enough women engineers," Rogers says. "That I should consider pursuing it – that I could make a difference. I was lucky to have support," she adds. "Of course, there were people who said, 'Engineering is too hard; you'll never make it.' I think that made me want to prove them wrong a little bit."
Early support was crucial for Rogers' development, and something she works to pay forward. "I try to encourage people to be involved in whatever they want to do and tell them they can do it if they're willing to work hard and be positive about it," she says. "You'll always have those moments of self-doubt, but remember that there are people who know you can do it. It would have been very challenging had I not had a little positivity."
Rogers joined Northrop Grumman full time after graduating from Christopher Newport. She worked in software testing but gradually moved into systems administration and installation of the systems she and her colleagues designed. She spent a few years in this work, learning the field and meeting people through volunteer activities like the USA Science Engineering Festival where she was a featured engineer. The event is a national grassroots effort to advance STEM education. It was a seminal opportunity for Rogers, as it enabled her to imagine her career as more than work – that part of her job was to inspire other young women to become scientists and engineers.
"There's still a mindset as to what you should be involved in if you're a certain gender," she says. "Women bring a different style of engineering to the table, and I think it's important to have diverse teams. When I was at the Festival, girls would say, 'Oh, there's a girl engineer, let's go talk to her!' – and they would just flock to me. It was great being able to share my stories and inspire them."
Over the years, Rogers began working more with software but grew restless within the confines of her cubicle. She was assigned to a customer site as a software engineer, which turned out to be another formative experience. Working directly with users, she learned firsthand how much of an impact her work could have. "Being right there on the spot helps save days, weeks worth of time for customers," she says. "A 30-minute code change can save one person two weeks – imagine that times hundreds or thousands." It was a rewarding experience, one where she gained trust and directly affected many people. It added a human element to work that can often be solitary and grinding. "What I like about technology is that you're actually making a difference in people's lives, helping people discover things," Rogers says.
"We are very proud of Mandy. She has always had a passion for computer engineering, a strong work ethic and a certain 'fearlessness' necessary for a female engineer to excel in a male-dominated discipline," says Dr. Anton Riedl, Chair of the Department of Physics, Computer Science and Engineering. "To see her be so successful at a very young age is really great," he adds. "We offer our students a first-rate liberal education in engineering and applied sciences, with the knowledge and in-depth skills necessary to succeed in their professions and to advance to positions of responsibility."
In fact, it is the diverse experience in the liberal arts and sciences Rogers had at Christopher Newport that she credits as a key factor in her development. Though she spent much of her time in the computer lab, courses in literature and history, as well as participation in student clubs and organizations, expanded her horizons and helped her see her place in a larger world. "I'm so glad I was able to take those kinds of critical-thinking classes. They made me a well-rounded person. It's definitely come in handy with customers, being able to better communicate and write. Being able to listen to others and actually value and process their input is a big deal. It's important to be good at what you do, but you need be able to communicate what you're doing as well."
For Rogers, pursuing her talents and success from one end of the country to the other, the journey is just beginning, as she will soon begin her next rotation at Northrop Grumman. Whatever that may be, she's ready and willing to face the challenge. "I want to be at work," she says. "It's one of my favorite things to do. It's like the old saying: 'Find something you love to do, and you never have to work a day in your life.'"
---