Read time:
---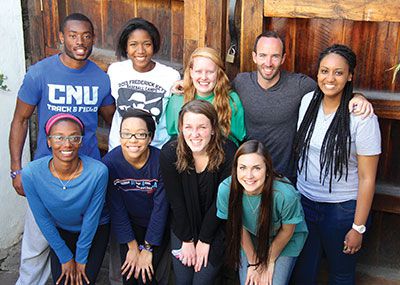 Brad Brewer '02, Director of the Center for Community Engagement (CCE) at Christopher Newport, has been named a National Bonner Fellow for the Corella & Bertram F. Bonner Foundation. This fellowship seeks to leverage and support leadership for civic engagement and campus-community partnerships.
Selected from a competitive pool of applicants, Brewer will serve in this role for two years and has been involved in building and leading the Bonner Program at Christopher Newport since its founding. He has already shared innovative ideas for fundraising and creative corporate and business partnerships with the Bonner Foundation's national network of colleges and universities.
"It is such an honor to serve as a National Bonner Fellow. I have already learned a tremendous amount from the Bonner Foundation staff and other fellows," Brewer notes. "In the coming years I look forward to developing new strategies and resources that expand the Center's abilities to work across multiple sectors, locally and nationally."
The Bonner Foundation announced this new program to bolster the leadership and professional recognition of campus civic-engagement professionals throughout its national network of more than 65 colleges and universities. Two cohorts of National Bonner Fellows now involve representatives from 10 colleges and universities, including Christopher Newport, Washington & Lee University, Stetson University, Rhodes College and others. In addition to professional development, National Bonner Fellows play a leadership role in resource development and national meetings sponsored by the Bonner Foundation and such partners as the Association of American Colleges and Universities and Student Affairs Professionals in Higher Education.
"We recognize the central role of campus administrators who build and run these programs, combining the talent of an educator, counselor, fundraiser, community relations manager and political strategist," says Robert Hackett, Bonner Foundation President, "and the National Bonner Fellowship engages some of the most exceptional administrators."
Since 1990 the Bonner Foundation has worked with undergraduate schools to support the development of service-based scholarships and infrastructure for higher education's public mission. To date, more than 10,000 students nationally have graduated college as Bonner Scholars or Bonner Leaders.
---