Read time:
---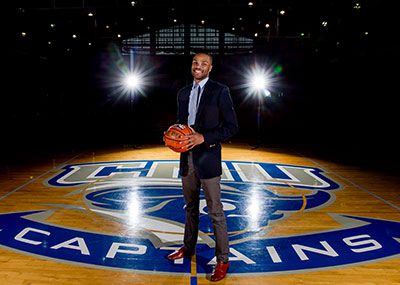 During his days playing hoops for Christopher Newport, Ben Watkins '16 contributed to the Captains' success as both a player and a student assistant coach. He assumed the latter role from 2013–15 while working his way back from a series of concussions.
"It was a great learning time about life, basketball and myself," Watkins says of his coaching stint. "I grew in that role and am thankful Coach [John] Krikorian allowed me to remain as a member of the program and help us win some ballgames. The biggest thing I learned from the whole experience is to always have people around who care about you and are willing to help in times of adversity – and in turn to be there for people when they call on you."
Hailing from Fredericksburg, Watkins played center for four years at Chancellor High School – the same position he would later play in college. He was named a team captain during his senior year at Chancellor.
A history major who minored in leadership studies, Watkins decided to attend Christopher Newport for several reasons. "The feel of the campus was unlike any other campus I had visited," he recalls. "The atmosphere, the people and the facilities had an impact on me. The academics of the school – along with its rising national reputation – definitely attracted me."
The joy of playing here extended far beyond winning games; it also entailed close friendships with fellow players. "The team was big enough that you had a great variety of personalities, but at the same time it was small enough that you could build good relationships with every guy and the coaching staff," he says. Thanks to those strong bonds on and off the court, the Captains enjoyed a historic journey to the Final Four this past season.
"We are proud of what we have done, and I know the guys are itching to get ready for next season to go even further," Watkins says. "I am glad I was along for the ride and able to help us get so far. I definitely have some stories for my kids down the road."
Watkins thanks several individuals for playing a role in his success. "I'm glad God put people like Coaches Krikorian and [Jarren] Dyson in my life to make these last four years exceptional," he notes. "Plus, the professors in the History Department made me enjoy going to class and learning."
Post-college, Watkins plans to pursue his dream of becoming a police officer. However, his first days following commencement were spent exploring the Western states, visiting national parks, camping and hiking.
---