Read time:
---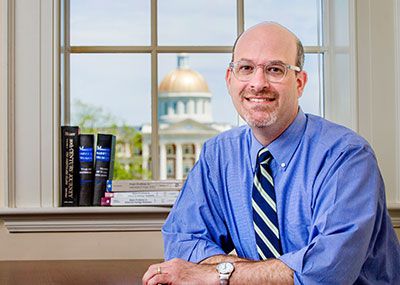 Collaboration with students motivates and inspires Dr. Andrew Falk's teaching and scholarship.
"I look at teaching and mentoring as very collaborative," he explains of his approach. "Teaching is often thought of as being one-directional, like we have to implant microchips of content into our students' brains. But education is really supposed to get students to think for themselves and solve problems for themselves."
An associate professor in the Department of History, Falk received the 2015 Alumni Society Award for Excellence in Teaching and Mentoring. The $2,500 prize celebrates his commitment to teaching, learning excellence and university fellowship. In addition to receiving the award, he gave the keynote address at the 2016 Latin honors convocation during commencement week. In his speech Falk noted, "Many have come to realize that an education is too important to be left solely to the classroom. Many of my colleagues encourage students to view our beautiful campus as merely the staging ground for connecting with the larger world."
Falk considers study abroad, undergraduate research and internships to be some of the best ways students can fully immerse themselves in the world. "My own research is usually focused on what individual people can do when they engage with the world and how they can affect it. This is an important mission we try to instill in our students," he says.
By encouraging students to study abroad, Falk helps them experience what they've learned in the classroom out in the real world. He has co-led several study abroad trips with other faculty members, from experiencing the history of World War II and the Cold War in Vienna, Prague and Berlin with Dr. Brian Puaca to spending three weeks in China with Dr. Xiao Xu. Falk calls study abroad a transformative experience, with those who participate often returning more enlightened and engaged.
Inside the classroom, Falk seeks new ways to promote a diversity of interests. When he has students with a background outside of history, he enjoys opening their eyes to the subject's importance. "I try to help students realize that history is about interpretation, research and finding answers to questions. When they get to read an unfiltered version of history, like a letter or diary entry, they understand the significance of the work," he explains. Although some of his students may not choose history as a major or pursue the subject professionally, he appreciates the opportunity to surprise and show them history's true nature.
Having earned his undergraduate degree at an institution similar to Christopher Newport, Falk recognizes the value of a liberal arts and sciences education, which empowers students to become well-rounded citizens. "You're exposed to the entire array of the human experience," he says. "I am convinced that is what prepares people for the future."
Whether it occurs inside or outside the classroom, Falk believes mentorship is a group effort between faculty members and students – and when one student succeeds beyond Christopher Newport, "It is a testament that what goes on at CNU is done well."
---