Read time:
---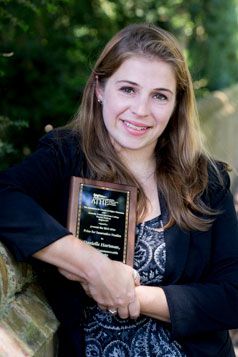 Christopher Newport's commitment to the liberal arts and sciences prepared Danielle Hartman '07 to explore her passions in unique ways.
A member of the Honors Program, Hartman double-majored in English, with a writing concentration, and theater, with a concentration in directing and dramatic literature.
This spring she earned her master of fine arts degree in theater pedagogy from Virginia Commonwealth University (VCU), where Hartman serves as an adjunct professor. She has taught dramatic literature, effective speech, introduction to stage performance and acting at VCU.
In February Hartman won the Association for Theatre in Higher Education/Kennedy Center American College Theater Festival Region IV prize for Innovative Graduate Studies. Her thesis work focused on the use of science plays to encourage women to enter the STEM fields – science, technology, engineering and math. "My research studied the ways in which theater can be used for educational purposes and connected it with how science plays featuring women can promote STEM careers and interest among middle and high school girls," Hartman says.
A self-described "artist in a family of scientists," she was inspired to combine science and theater when Associate Professor of Directing Denise Gillman directed a science play at Christopher Newport, "Legacy of Light." Today the two continue to collaborate on plays and research surrounding the STEM fields and theater.
"The Department of Theater and Dance was fortunate to have Danielle as a directing and dramatic literature student, and we are proud of all she has accomplished as an alumna," says Gillman. "At CNU Danielle excelled academically and artistically in both her directing and playwriting work." After she graduated, the Department invited Hartman to serve as a director for the annual One-Act Play Festival.
In addition to her thesis work, Hartman's playwriting talents have also gained recognition. In March her play "Core of Temptation" – a retelling of "Paradise Lost" and the creation story – premiered at Wichita State University after winning Wichita State's annual playwriting competition (performance picured below). She wrote the play's first draft as a Christopher Newport senior. Years later, she says, "Something told me to come back to it."
As a Captain, Hartman was active in theater productions, Zeta Tau Alpha, Sigma Tau Delta international English honor society and Alpha Psi Omega theater arts honor fraternity. After graduation, she joined the Office of Admission as an enrollment services assistant for the President's Leadership Program and Honors Program, working closely with students during the application and interview process.
"I have a passion for education and love the environment higher education provides, which I discovered during my time working for the Admission Office," Hartman says. She hopes to continue teaching college theater while pursuing individual productions and research she can share with students – in addition to creating programs that increase female STEM participation through science plays.
Hartman notes, "Christopher Newport showed me that I didn't have to sacrifice one passion to pursue another. There is always a way to make things work." She expects to begin writing a STEM play in the near future.
---