Read time:
---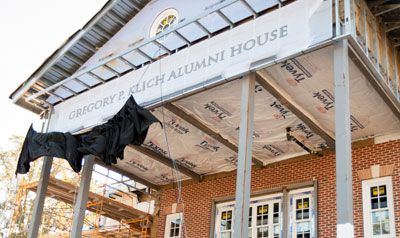 On Saturday, October 29, during Homecoming festivities, Christopher Newport University unveiled the name of the new alumni house, the Gregory P. Klich Alumni House, making it the first building in university history to bear the name of an alumnus.
"Christopher Newport encourages and inspires its students and alumni to be leaders – in the classroom and in the community – to make a difference, and go forward and make a positive impact on the world … I can think of no better example of these virtues among our alumni community than Gregory Klich, class of 1984," Rector Scott Millar stated during the announcement. "Gregg, on behalf of the entire university community and Captains alumni everywhere, I wish to express our sincere appreciation and deep thanks for your commitment to your alma mater, your vision, your leadership and your generosity."
In his remarks, President Paul Trible stated, "This is an important day in the life of Christopher Newport University. We are immensely grateful to Gregory Klich for embracing our vision of a great university and for his leadership gift. Gregg's strong and generous support has made this Alumni House a reality and powerfully underscores what it means to be a Captain for life.
"While the Klich name may adorn this home, there are so many leaders of Christopher Newport, with President Paul Trible at the forefront, and passionate alumni like Scott Millar, who believed and worked tirelessly to make the vision of an alumni house here a reality," stated Klich. "I have heard the message about leading a life of significance, and to me this message was a calling to help leave a legacy here and to help promote the ideals of honor, service and leadership."
Klich made a generous contribution to the Christopher Newport University Education Foundation to support the construction and furnishings of the Alumni House. He has requested the amount of the contribution remain confidential.
Klich is a real-estate developer and investor in Hampton Roads. His company works with new construction, and home renovations, and both owns and manages affordable housing apartments, as well as homes and commercial real estate on the Peninsula. Additionally, a priority of one of Klich's companies is the housing needs of the region's homeless and veterans. He graduated from Christopher Newport in 1984 with a bachelor of science degree in governmental administration.
Before his career in real estate, Klich served as vice president of park operations for Busch Gardens Williamsburg. He began his 25-year career at Busch Gardens in 1979 as a ride operator. He served as vice president from 1989 until 2003. During his tenure, Klich was involved in many park improvements, including the capital expansions of the Festa Italia Village, the opening of the new admissions entrance complex and the opening of the Busch Gardens I–64 exit. He also oversaw the development and opening of many of the park's flagship rides.
In 1993, he was honored by Christopher Newport's College of Social Sciences and Professional Studies with the Outstanding Alumni Award. In 1997, he received the University's Distinguished Alumni Award. In 1999, Gregory endowed the Klich Award, a $5,000 cash prize each year given at commencement to the student with the highest grade-point average.
---