Read time:
---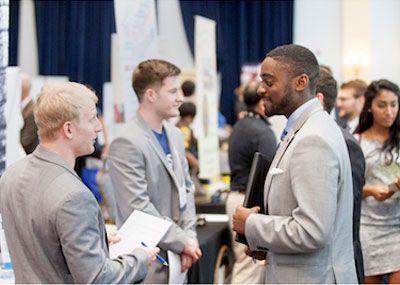 Over the span of two days in September over 44 graduate schools and more than 100 employers filled the David Student Union Ballroom for the twice-annual Career and Graduate Fair, sponsored by the Center for Career Planning (CCP). It was the largest career event ever put on by the Center and offered students and alumni a look at a wide array of internships, full-time jobs and grad schools.
"You get jobs by talking to people," says Libby Westley, CCP Director. "The Career and Graduate Fair offers a face-to-face interaction for students as well as the graduate schools and employers." The event features both local and national companies and schools.
The Career and Graduate Fair is open to Christopher Newport alumni as well, and is just one of many services the CCP offers graduates throughout their careers. "We want alums to be successful once they leave Christopher Newport because that not only helps increase our reputation for students here now, but also for future students," Westley says. Many alumni also represent their own employers and graduate schools, which offers a unique networking opportunity. "Alumni know the quality of education offered here and, as employers, are able to open doors for students," she adds.
---