Read time:
---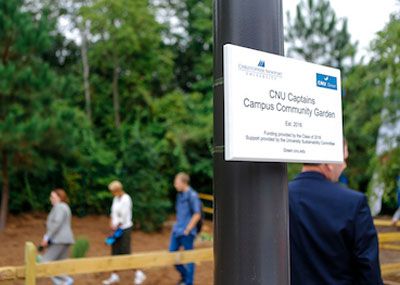 Christopher Newport is in full bloom, thanks to a $5,000 gift from the Class of 2016 establishing a community garden on East Campus.
The idea came up last year at a meeting of the Sustainability Committee, which has members from across campus. Their focus is on all things green, whether green purchasing, energy efficiency, waste reduction or recycling. "Originally, we were going to collect some private donations to the tune of about $200, $300," says Ryan Kmetz, Christopher Newport's Sustainability Coordinator. However, the representatives from the Class of 2016 made the decision to offer a percentage of their gift to the community garden.
With that gift the project blossomed. The University broke ground on the garden in August, and dedicated it at a ribbon ceremony in October. Plots were made available to students, faculty, staff or alumni on a first-come, first-served basis. "The rules are fairly straightforward. As long as you tend your plot, that's awesome. We just don't want it to become overgrown or unkempt," says Kmetz. "There is a security deposit just to make sure that you don't let it go, but then it'll be refunded at the end."
With this new project the campus will be everblooming. "Really, it's an opportunity to provide recreation for students, and it's a very easy way to talk about the environment," says Kmetz. "Part of it is fostering teamwork. There have been studies that show gardening has a positive psychological impact on people, because you're outside, you're doing something with your hands. You have that feeling of, 'I did something. I completed something.'"
As far as what can be grown, there are very few limits. "I had one student ask me, 'What can I grow?' I said, 'As long as it's legal you can grow whatever.' I said, 'If you want to turn it into a rock garden, turn it into a rock garden,'" says Kmetz. The plots will be reassigned to a new set of individuals every few months, so there will always be a chance for people to tend a garden.
---