Read time:
---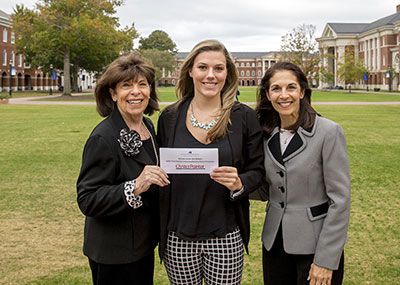 Captain and marketing major Makenzie Fancher is the first recipient of the new Oyster Pointer Outstanding Marketing Student Annual Scholarship.
"It's a humbling experience to be the inaugural winner of this scholarship. I aim to make a good name for it," says Fancher.
The 'Oyster Pointer' is a monthly newspaper for and about businesses in the Oyster Point area of Newport News. The paper's editor, Sylvia Weinstein, set up the scholarship. "My lifelong commitment to education and years of service on various CNU boards inspired me to give back in appreciation for so many educational opportunities," Weinstein says.
Fancher is deeply involved in campus life, not only in her studies in the Luter School of Business, but also as a student-athlete, and in a wide array of student activities. She is a member of the Honors and President's Leadership Programs, the women's basketball team and the Student-Athlete Advisory Committee, all while pursuing minors in leadership studies and communication. "Involvement to me doesn't necessarily mean becoming a part of as many things as you possibly can. It means finding a few things you are really passionate about and enjoy doing, and to contribute as much as you possibly can to help that organization achieve success," says Fancher.
Fancher attributes much of her own success to the role her family plays in her life. In particular, she looks up to her brother, who served in the Army, and inspired her to develop resilience and determination. She is also grateful to her parents, and to faculty, staff and her fellow students at Christopher Newport, for keeping her going. "My parents have taught me so much – from values to developing a hard-work ethic to finding passion and excitement in every little thing," she says. "I owe them for every accomplishment. CNU has prepared me for success in so many ways, and even when I come across failure there are support systems in place to get me back on my feet and ready to take on the next challenge."
"Makenzie is an academic superstar," says Dr. Lisa Spiller, Distinguished Professor of Business and Fancher's academic adviser. "As her mentor, I'm here to assist her in whatever manner I can, whenever she needs me, regardless of the topic. My relationships with my students are for life."
To be eligible for the Oyster Pointer scholarship, a student must be a full-time junior marketing major with a minimum 3.4 GPA and demonstrate leadership and service in student organizations.
For more information about scholarships at Christopher Newport, contact the Office of Financial Aid.
---