Read time:
---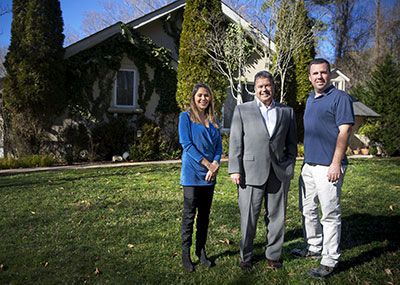 When Jay Epstein graduated from Christopher Newport in 1976, it was still a branch of the College of William & Mary, and was a commuter college until the first residence hall was built in the 1990s. The larger campus transformation began a decade later.
Epstein, whose own dream of becoming a developer began back in his student days, is president of Health-E Community Enterprises. He builds ultra-energy-efficient houses designed to use up to 80 percent less energy than a conventional home. They are customizable and feature high-quality construction and exceptional indoor air quality. His latest "zero energy" homes in Richmond are so revolutionary that the U.S. Department of Energy (DOE) took notice and awarded Epstein a 2016 Housing Innovation Award. It's the latest in a string of awards Epstein has won, and Health-E Community was the only builder in Virginia recognized by the DOE in 2016.
When Epstein began building years ago, he noticed that most contractors had little interest in new methods or innovative materials. "I saw a gap in the marketplace," he says. "There were homes being built, affordable housing, first-time buyer properties. But they weren't energy efficient, and they didn't have enhanced indoor air quality. That's what I wanted to focus on."
After much research and development, Epstein hit upon a way to build the new Richmond development that was so energy efficient and "tight" – minimal air movement into and out of the house – that, when combined with a rooftop solar array, effectively meant no electric bill for the homeowner. "What that means is that your house is going to have an average of a zero utility bill over the year, except for service charges and taxes," says Epstein.
Another advantage of such tight construction is superior air quality, a boon for those who suffer from respiratory ailments like asthma or COPD. "We're bringing in the air we want and taking it out through the exhaust system," Epstein says. "Very moderate pollutants are coming in." The homes are a safe haven for families with young children, or for those who have allergies or asthma. "It sounds too good to be true, but I'm an asthmatic, and once you're involved in this living experience, you see that it works."
In addition to these environmental and health benefits, Epstein views his approach as good business. He cites growing government involvement in construction, such as incentives to use recycled materials and other sustainable methods. "In 2025, this is the way all homes are going to be built. But let's do what's right now," he says. "We can build the future home today. The technology's here. It's available."
Epstein's passion for green building and healthy air doesn't stop with him. Health-E Communities is the family business, and two of his five children work side-by-side with him. They followed in his footsteps in another way as well: each graduated from Christopher Newport. Morgan '14 is the office manager, and Robert '03 is a superintendent. Epstein's youngest daughter, Jordan, is a current CNU freshman. He looks forward to the business growing in the years ahead and to the next generation showcasing the homes of the future.
"I'm enjoying myself when my dreams become a reality. Fulfilling that dream, I build solar-powered homes with enhanced indoor air quality for middle-income buyers. It's an opportunity for my children and a way to educate the public about what I consider a new beginning in home building," says Epstein. "A developer is the ultimate optimist. I love the fact that I can bring people together, where families make memories and friends for a lifetime. I love building community."
---