Read time:
---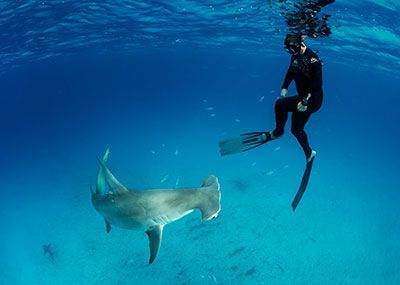 Below is an excerpt of a blog post written by Collin Davis and published on the Bimini Biological Field Station (BBFS) blog. Davis graduated in 2016 with a bachelor of science in biology. You can read his entire post at the link below.
---
Splash! The head of an unfortunate squirrelfish lands within two feet of my masked face. Behind the squirrelfish head, one of the largest Caribbean reef sharks I have ever seen and it's obviously hungry. One quick bite and in the water where once the squirrelfish head floated there was now only a foggy plume of scale and fish scraps and one happy reef shark. I have been in Bimini now for roughly two hours.
The adventure that is volunteering at the BBFS is one that begins with a startling quickness and begs one to internally ask a seemingly innumerable amount of questions: Is this really happening? Should I be cool with sharks feeding this close to my face? If this is day one, what then could feasibly be next? One thought resounds with absolute certainty, however: your time as a volunteer at the shark lab has officially begun.
My entire life, I have been hopelessly enamored with sharks, rays and the creatures that share their environment. My idols have been the scientists who dedicate their lives to the study of these incredible creatures. Individuals such as Jacques Cousteau (I still have a papier-mâché statue of Jacques Cousteau – an elementary school project - floating around somewhere in my house back in Virginia), Mike deGruy and, you probably guessed it, Dr. Samuel "Doc" Gruber, have all been major influences throughout my life, actively living a life that I have always dreamed of living. Sitting here now I cannot even begin to ballpark the number of "Shark Week" specials and other shark-related programs I have viewed during my life, living vicariously through the experiences of the men and women whose lives are dedicated to the study of these incredible creatures. It is through many of my repeated shark-related program viewings that I discovered, and fostered interest, for the world-renowned Bimini Biological Field Station, or aptly titled, "Shark Lab."
I graduated on May 14, 2016 from Christopher Newport University in Newport News, Virginia (cool spot, give it a Google) with a fancy piece of paper declaring bachelor's-level competency in studies of biology and an overwhelming fear of the question "So, what's next?" It was a fair and logical question, and one for which I had yet to provide a 'good' answer. Sure, I had a few interviews here and there, even reaching the final steps of consideration in some instances, but my lack of practical work experience was clearly an obstacle in my intended career path.
It becomes very apparent to those interested in a career in environmental science that, while education in the field is essential, relevant experience is equally necessary and crucial to separating oneself from the pack ...
Read the whole post at the link below.
---