Read time:
---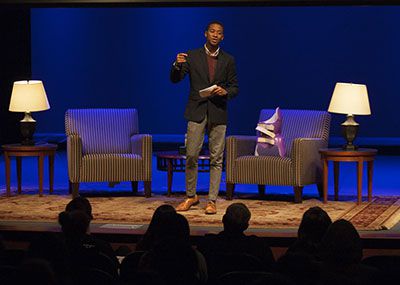 Most people have heard the phrase, 'thinking outside the box.' But, what if there was no box? That was the theme for SPEAK CNU, an event put together by students, faculty and alumni in a format similar to TED Talks, the popular series that has become an international phenomenon.
The theme of SPEAK, or Sharing People's Experience And Knowledge, was that the philosophical "box" indeed does not exist. Although we sometimes restrain our ideas or live in a box, we should always refuse to be bound by limitations, as event organizer Lexi McCreary '16 says. "All our lives we're told that when we are brought to a mountain that seems too high to climb, we should think outside the box. At times that probably helps and motivates us, but once that issue is gone we probably just put ourselves right back inside that comfort box. We don't really think of what would happen if we didn't have that box altogether. If there were no limits, then what am I as a person, as a leader, as a student, capable of doing?"
The talks ranged in subject matter from Spanish major Gabriella Marcellus speaking about her battle with scoliosis, to James River Hall Director Jason Koh discussing the importance of hospitality. Brandon Cumbo, a double major in English and communication, read a poem about the limitations of a closed mind in an open world. Other speakers used diversity and individual growth to unpack the night's theme.
Rachel Wagner, an American studies major, focused her talk on the idea that life is often a series of wins and losses, using her high school experience as a lens. "The core message of my talk was that there are many ways of looking at life, and sometimes the ones we don't think of often enough can actually provide comfort from necessary evils. No one can achieve everything they have ever dreamed. We all feel the pain of loss at some point" says Wagner.
Alumnus, Taylor Quinn '13, delivered a talk called "Unboxing Our Fears." He focused on his personal experience with fear and how to face it. He was let go from his job, but decided to take action and started his own business, Filmspire, a video production and digital marketing company. "I was extremely honored to come back and speak at a new campus event. I have been a part of a few panels at CNU but this was the first time I have been asked to be a speaker for an event like this. The experience was one I will never forget," says Quinn.
The event offered many perspectives on life, and Wagner hopes it becomes a new tradition on campus. "I really hope the event spoke to the power of humanity and thought. In sharing thoughts and ideas, stories, and knowledge, we gain from an always replenished source. Sharing ideas comes with no cost; it's a gift for all parities involved," says Wagner. "I hope the people who attended left encouraged to share their own stories, or left thinking about some of the messages they received."
---