Read time:
---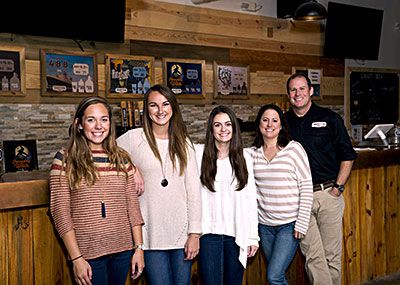 When Tradition Brewing needed help increasing brand awareness in the crowded craft beer market, the fledgling company turned to Dr. Lisa Spiller and students in her Integrated Marketing Communications class.
Marti Caldwell, Tradition's marketing director, contacted Spiller after getting advice from an alumnus who had taken Spiller's class. Tradition, the first craft brewery in Newport News, opened in 2016, and needed help increasing visibility in a region that has seen over a dozen breweries spring up in recent years.
Spiller, Distinguished Professor in the Luter School of Business, and her students frequently take on clients who need help getting past marketing obstacles. "I love taking on small businesses, entrepreneurs – companies that really can't afford consultants. I like challenges that are outside the box," she says. After hearing what the client needs the most, Spiller creates a lesson plan for her students to begin tackling the work. "All advertising is a competition. You're always competing for consumers or competing for eyeballs," she says.
For the Tradition case, the students conducted market research and developed a communication plan. They also developed designs for merchandise such as ball caps, T-shirts and key chains, factoring in the company's needs as they developed their campaign pitch. "We worked to understand what the company's vision is in order to properly do their brand justice," says Meghan O'Reilly, a student in the class.
The hands-on environment of the class is what drives the students – and Spiller, whose goal is to provide students a chance for real-world experience to directly apply what they've learned in class. "This experience is something they're going to take with them forever," Spiller says. "I hear back from alumni all the time who say this was one of the most valuable courses."
"I want them to hit the ground running when they go and look for a job," she says. "If they go on to graduate school, I want them to be able to work as a team and be an active contributor and be able to critically evaluate and critically think about a challenge, a marketing challenge that's real."
Another student, Megan Shoemaker, agrees, and plans to add this experience to her resume. "A lot of marketing agencies love to see if you've worked on campaigns actually marketing products," she says. "This is actually a real-world project instead of just sitting in a lecture."
---