Read time:
---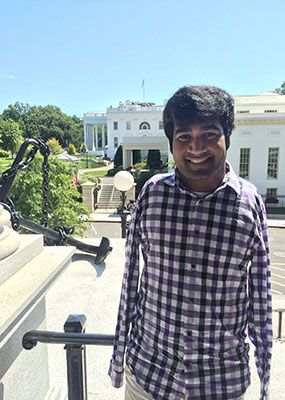 When James Dennehy became a Christopher Newport Captain, he never imagined becoming a White House intern as well. "I tell my parents that the day I walked into the White House was the day I grew up," says the political science and American studies major. "I had three seconds to freak out about where I was – and then a half-second to figure out what I was going to do."
Dennehy hails from Ashland and also pursues minors in both leadership studies and human rights and conflict resolution at CNU. He discovered the internship opportunity through a friend's mother who works at the White House and then applied during his sophomore year. After a six-phase process he landed a summer post in the Office of Public Engagement and Intergovernmental Affairs. There he assisted with initiatives geared toward the disabled, the aging and federal agencies.
"The one we focused on heavily was the disabled population because I have a disability," Dennehy says. He spent considerable time monitoring public opinion, hearing people's concerns and exploring how various issues could be addressed. He also assisted with special events, including some that explored the intersection between different population groups.
Dennehy notes, "We did an LGBT disability event. That was interesting because you don't typically put those two categories together. It broadened my image of how different groups interact and are related to each other." He particularly enjoyed an event marking the anniversary of the Americans With Disabilities Act that highlighted technological advances in products assisting the disabled in everyday life. "I talked to many people and saw how meaningful it was to them that the White House took time to focus on a piece of legislation that impacted their lives," he says.
Then, on Dennehy's final day, President Obama addressed the intern class – the perfect closing to an incredible experience. "The White House internship was a lifetime dream. I never thought I'd get to do something like that so quickly," says Dennehy.
"I've been interested in social issues since late middle school and did a lot of volunteer work in the inner city throughout high school," he says.
Born in India and adopted at age 2, Dennehy is one of 13 children – 10 of whom were adopted. Based on his own experience, he hopes to one day work in adoption advocacy and human rights around the world. "Orphan justice has had a significant impact on my life," he says. "It's played a big role in who I am. My family just adopted a little boy from China a few months ago."
Christopher Newport has also made a positive difference in Dennehy's life. "I never looked at schools based on how accessible they were," he says. "I forget I don't have arms sometimes because it's just so natural. This is how I've been my entire life." In fact, he notes, the University first reached out to him regarding accommodation needs.
"The school has come up with things I didn't think I would need. Then when I do come up with things, they are so accommodating and work with me," Dennehy states. Recently the University changed his suite door to a touchless lock. This allows him to keep his ID in his backpack side pocket and simply touch the ID against his door to unlock it.
"CNU has been amazing," he says. "I have friends who go to other schools who have disabilities, and it's not the same experience."
---