Read time:
---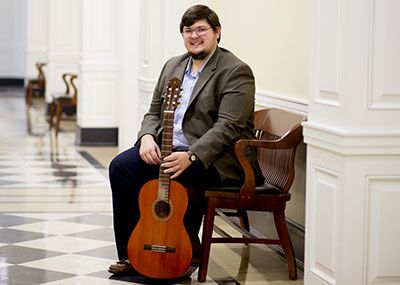 While most students typically spend four years in college, Drew Poplin '16 has been on campus for a large part of his life. "My mother, brother and sister all went to CNU at the same time while I was in kindergarten," he explains. Because Poplin's mother had to watch him during classes, he spent much of his life at Christopher Newport, which gave him the opportunity to watch the University evolve. "I learned to tie my shoes here, ate meals here, sat in classes with my mom, and when I came back during high school there was this ultimate feeling of nostalgia and being back home. I have basically been here 21 years."
Once in college himself Poplin majored in music performance with a concentration in classical guitar performance. Dr. Mark Reimer, Director of the Department of Music and the George and Mary Torggler Professor of Music, took Poplin under his wing. "I heard him play every semester," Reimer says. "He was very good at writing, particularly in conducting class."
Poplin excelled academically and kept a journal as part of his assignments. Notes Reimer, "I discovered not only what a great writer he is but how wise and introspective."
For years Poplin has used his talents to serve others. "I started singing in nursing homes as a part of a children's ministry with my church around fifth grade or so and have continued that ever since – throughout middle and high school, as well as college," he says. When his father was a senior adult Sunday school teacher, Poplin would play and sing for students who visited his home. "Serving senior adults through music and simply talking and listening to them has always been a part of my life, whether through hospice care visits or nursing home visits," he says.
At Christopher Newport Poplin continued serving through his songs. "Dr. Reimer sent me to play guitar for a woman's husband who was in his 80s-90s and had severe dementia," he explains. "It was amazing that a man who does not remember his own name could remember all the words to these songs." Poplin ultimately committed himself to visiting hospice patients, playing a wide variety of music for them.
Reimer reflects, "Most people my age aren't even visiting hospitals, let alone spending time with dying people," says Reimer. "It showed a very mature outlook."
Poplin offers a unique perspective: "My view of success is how many people have I loved, and how many people truly love me? It's not about me; if we're all made equal then why would I be better than anyone else? I've been afforded the opportunities to love others from my time at CNU, and I will continue to give back to CNU and people in need. My mission is for God and others."
---