Read time:
---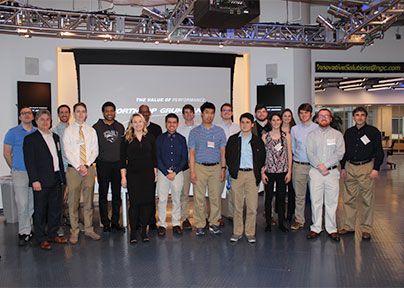 Students from the Department of Physics, Computer Science and Engineering (PCSE) took a field trip to Northrop Grumman in McLean, Virginia. The event, Pizza My Mind Dining Out, was organized by Mandy Rogers '10, manager of cyber software engineering in the Cyber and Intelligence Mission Solutions at Northrop Grumman.
The event included tours of Northrop Grumman's Augmented Reality Lab, the Cyber Plate (big data-visualization) and the VIPE Holodeck, as well as demonstrations of innovative projects. In addition, students met with representatives from the Cyber & Intelligence Mission Solutions Division and the Advanced Concepts & Technologies Division to discuss career interests and opportunities. Students also had an opportunity to speak with a few Christopher Newport alumni who hold interesting and key leadership roles at Northrop Grumman.
"The Northrop Grumman trip was amazing. It was so well organized and I benefited a lot from the one-on-one interviews with different people from many different projects," says computer science major Danielle Grieco. My favorite part was seeing some of the really cool technology that Northrop Grumman is developing like the holodeck to really get a sense of the people and work that goes on there. The environment for the interviews was very relaxed and took a lot of the pressure away so that it felt like a conversation with a peer instead of an intimidating formal interview. I think this trip was an amazing opportunity and I am very glad I was able to attend."
Pizza My Mind is the department's signature outbound student success and recruiting initiative, popular with students and companies alike. Each week of the semester, a different employer visits CNU to treat PCSE majors to pizza and talk about internships and career opportunities. "The Dining Out component adds a unique dimension to the Pizza My Mind experience as it allows students to not only hear about a company, but to actually see it on-site." says Anton Riedl, department chair. "I am very grateful to our alumni Mandy Rogers, Kelvin Franklin, Dirk Link and the many other employees from Northrop Grumman who made this event a truly enriching experience for our students."
"We were thrilled to host the PCSE Department at our Center for Innovative Solutions this week because nurturing STEM talent is a huge priority for me and Northrop Grumman," says Rogers. "The energy and excitement these students have for cutting edge technology makes me proud to be a Captain!"
---