Read time:
---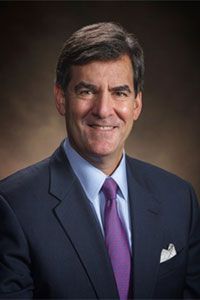 Dr. Mitchell B. Reiss, honored diplomat, academic leader and president and CEO of the Colonial Williamsburg Foundation will deliver the commencement address at Christopher Newport University on May 13, 2017.
"At Christopher Newport we challenge our students to lead lives of significance – lives of meaning, consequence and purpose. No one has embodied a life of significance more than Dr. Mitchell Reiss," President Paul Trible stated. "His service to our country serves as an example to all of us."
Before joining the Colonial Williamsburg Foundation, Reiss was special envoy for the Northern Ireland peace process for the State Department, with the rank of ambassador. In this assignment, he worked closely with the British and Irish governments to persuade the political parties to finally end the "Troubles" and restore local government in 2007. For this work, he received the State Department's Foreign Affairs Award for Public Service.
In addition, Reiss served as director of the office of policy planning, reporting directly to Secretary of State Colin Powell, providing independent strategic advice and recommendations, with special emphasis on developing U.S. policies toward Iraq, North Korea, China, Iran and the Arab-Israeli conflict.
Reiss joined the Colonial Williamsburg Foundation in October 2014, where he is responsible for the foundation's 1,800 employees, 800 volunteers and an annual budget of more than $220 million. In his first years, the Foundation has introduced innovative new programs in the Historic Area, developed a mission statement and strategic plan, adopted an employee bonus system, completed fundraising for the expansion of its world-class museums, and met or exceeded its financial targets.
Prior to joining the Colonial Williamsburg Foundation, Reiss was president of Washington College, a leading liberal arts college in Chestertown, Maryland, where he was responsible for a $60 million annual budget, more than 500 employees and communications with over 9,000 alumni
Reiss earned a bachelor's degree in political science and history from Williams College, a law degree from Columbia University and a D.Phil. in international relations from the University of Oxford.
---