Read time:
---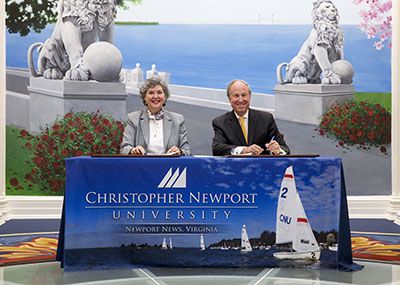 Christopher Newport President Paul Trible and Rappahannock Community College (RCC) President Elizabeth Crowther have signed a guaranteed admission and reverse transfer agreement that will allow eligible RCC students to transfer to Christopher Newport University and have credits earned count toward their RCC associate degree.
Under this agreement, in addition to providing students the opportunity to earn an important additional credential, they will be able to pursue their bachelor's degree – saving time and money.
"I am just delighted to see this new partnership come to life," says Crowther. "Thanks to this new agreement, our students who wish to continue their education at the next level will have Christopher Newport as an excellent option. That, I can say, is just wonderful."
Once a student at RCC elects to participate in the program, guidance and advising from both colleges will be available to assist with transfer and maximize the student's coursework options to promote timely graduation.
"We are excited about expanding our relationship with RCC, reflecting our mutual commitment to great teaching and student success," Trible says. "This agreement is the first of its kind for Christopher Newport and marks a new partnership with the Virginia Community College System that will promote access and opportunity."
---